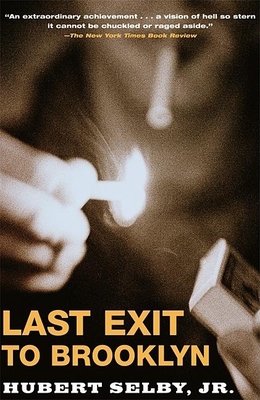 Last Exit to Brooklyn, Hubert Selby Jr, Grove Press, 1964, 304 pp
I hardly know what to say about this book. I read the first chapter and it was so raw and brutal. Not being in a state of mind strong enough at that time to deal with it, I set it aside. A few days later I noticed it was Banned Books Week.
An attempt to ban Last Exit to Brooklyn was made in Great Britain in 1966 when a Conservative Member of Parliament brought it to trial under the Obscene Publications Act. Copies were seized, the verdict was guilty. Then an appeal in 1968 reversed the decision. I did not have another banned book handy so I picked it up again.
Hubert Selby Jr lived in Brooklyn, working as a copywriter and general laborer. He wrote these connected stories about the people he lived and worked among in a straight forward style paying little attention to the rules of grammar. He highlighted the dope addicts, small time hoodlums, prostitutes and factory workers. There is a moving chapter about a labor strike. The New York Times Book Review called it "a vision of hell."
It is! Here's the thing though. These hellish aspects of life in American cities still exist. Selby's characters want the same things any of us want but the way the world is set up, only some of us have a path to getting them.
Selby does create a bit of relief or balance to all this gritty reality by drawing characters so sensitively that you see their innate humanity and childhood innocence turned to rage and desperate actions by the hopelessness of their environment and the powerlessness of their position. Most of these people started out looking for love, purpose and respect.
I can't recommend the book to just anyone. The stuff that happens to children and women, the prevalence of extreme violence is offensive. It beats the reader up emotionally. The failures of civilization are on intimate and visceral display. Still it is probably important to be reminded from time to time about the way things really are.
There was a movie in 1990. I have not seen that but I bet it put Rebel Without a Cause to shame.