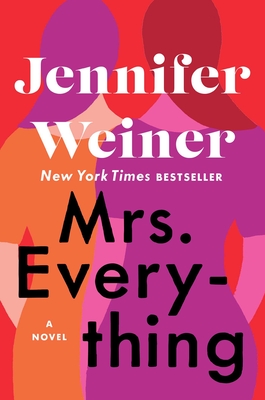 Mrs Everything, Jennifer Weiner, Atria Books, 2019, 416 pp
My second only Jennifer Weiner novel was a good experience. I read In Her Shoes, her second novel, in 2007 because it was coming out as a movie. Ms Weiner has been emphatic about chick lit being a valid genre and that's fine. It is just not my favorite genre and since that is what she writes I never read more.
The buzz about Mrs Everything led me to believe she had gone further or deeper or something this time. I read it, I had a good time, it's historical to a degree (1950s Detroit) but it is still chick lit.
Two sisters, a Jewish family in Detroit, father dies, mother is strict. One sister doesn't fit the mold. The reader can tell before she can that she is gay. The other sister is "perfect," beautiful, good, mom likes her better. She goes wild at University of Michigan in the 60s (so did I!)
Neither sister gets the life she wanted and the irony of how far women have supposedly come but not really is brought home with not too heavy a hand.
As I said, I had a good time, I get what she intended to do. Now back to my usual heavy stuff!