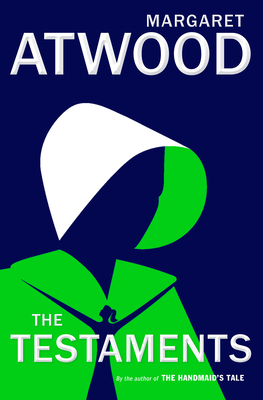 The Testaments, Margaret Atwood, Nan A Talese/Doubleday, 2019, 415 pp
I first read Margaret Atwood in 1996. The book was Cat's Eye, her 7th novel published in 1989, the year I turned 42 and she turned 50. Next I read The Robber Bride, then Alias Grace. I found her to be one of the most intelligent authors I'd read and utterly brilliant when it came to females and their relationships with each other as well as with men. I wondered how I could learn to be that intelligent.
Now I am 72 and Margaret is almost 80. As I moved towards the end of middle age I had decided that I would navigate my older years seeking wisdom. As always, Margaret Atwood is way ahead of me. From The Handmaid's Tale through to the MaddAddam trilogy, The Heart Goes Last and now The Testaments, her wisdom as well as her wit has just grown and grown.
I loved The Testaments! The characters, the pace, and the reassurance that women can fight oppression at any age with smarts, courage, cooperation and even a touch of evil. Women of three generations inhabit the story. Not all of them are nice people, well perhaps none of them are. It's not always about being nice. Some are good, some are horrible.
They are united only by an aversion to being under the thumbs of men. Not all men are bad of course, but they easily can become handy with those thumbs as well as other body parts.
Margaret Atwood's wisdom, along with a sharp sense of politics and deep awareness of how human beings act and react, shines through The Testaments on every page. She has said she may be done writing novels. I say she deserves to make that choice. After all, that is one of the things wisdom is for. If she is done, she has left us with a perfect sequel to The Handmaid's Tale.