THE SUNDAY FAMILY READ
The Caldecott Medal was named in honor of nineteenth-century English illustrator Randolph Caldecott. It has been awarded annually since 1938 by the Association for Library Service to Children, a division of the American Library Association, to the artist of the most distinguished American picture book for children.
I do not know how this whim came about but one day I got the idea to read a decade of Caldecott Medal winners. I have always included the Caldecott winners in the years of My Big Fat Reading Project. When I read those winning books from the 1940s and 1950s I recognized a few because my mom read to me and my sisters every night before bed. For some reason I wanted to compare the books from a decade I had not gotten to yet. I chose the 1990s.
Here are the ten books I read with short comments on each:

1990: Ed Young translated and illustrated this Chinese version of the Red-Riding Hood tale. Po Po is the grandmother. The mother of her three grandchildren leaves to visit Po Po because it is her birthday. While she is gone, a wolf comes to the children's home, claiming to be their grandmother. After figuring out that it is not Po Po, they trick the wolf. In fact, the kill it!
The illustrations are watercolor and pastel, appearing in panels, soft-edged with mists and shadows but also lots of color.

1991: I had to read this one several times before I "got it." Each double-page spread is divided into quadrants, each showing a part of four different stories that by the end seem to merge. I wonder if a child would understand it more easily than I did.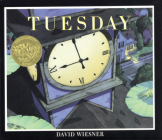 1992: This story involves frogs who fly about on lily pads one night. Leaving their wetlands pond they invade a neighborhood where they frolic about in the yards and streets in the moonlight until they return to their pond at dawn.
The story is as crazy as a cartoon but the illustrations have the look of art.

1993: One of my favorites. With illustrations reminiscent of Henri de Toulouse-Lautrec, the author creates a story based on Charles Blondin, the famous 19th century French tightrope walker. Mirette, a daredevil of a little girl who is always climbing on things, meets a famous tightrope walker who has come to rest at her mother's inn after an accident. He has become afraid of heights.
By convincing the man to teach her, she helps him recover from his fear. A more magical and beautiful picture book I had never read.

1994: Allen Say wrote and illustrated this one. He honors his Japanese grandfather with his own paintings to recreate the love of both of them for Japan and America. The grandfather was an immigrant who took Allen to visit Japan years later. Both felt a constant desire to be in each country at the same time.

1994: Sometimes the winning books are both written and illustrated by the same person. In this one, the author wrote a fine story about what riots might mean to the children who live through them, inspired by the Los Angeles riots in 1992.
David Diaz won for his striking illustrations with boldly colored drawings of the characters set against collages of objects. The results are a stunning synergy of talent.

1995: This was the funniest of the books I read for the project. In fact, it is hilarious.
Officer Buckle collects safety tips and goes around to schools sharing his tips with the kids. They are very bored.
Then his department gets a dog named Gloria, a trained K-9. Buckle starts taking Gloria along on his safety speeches and the kids love it. You'll have to read it to see why.

1996: I felt this one might be too scary for little children. It is based on the medieval legend of the Golem, a tale of supernatural forces called upon by a rabbi to fight the oppression of Jews in 1580s Prague.
The illustrations are stunning. There are many more words of text than in most picture books. I loved learning the original legend and I think somewhat older children would benefit from learning it too.
I also admire the ALA for awarding the prize to this author.
In A Note at the back of the book, a fuller explanation of Golem and its history is given, along with details about how oppression of Jews gave rise to the establishment of Israel.

1998: Another one of my favorites for the decade. The author and illustrator creates a retelling of the Rapunzel fairy tale based on several different versions.
The illustrations are all his original oil paintings with lots of peacocks! As well as recreating the tale, his paintings are in the Italian Renaissance style.
In his author's note he references the history of the fairy tale and mentions the versions he consulted. The book is so beautiful, I want to purchase my own copy.

1999: We come to the end of this project with a biography! Wilson Bentley was born in 1865 in Jericho, VT, where he lived all his life. His family were farmers. He is the first known photographer of snowflakes.
First line: "In the days when farmers worked with ox and sled and cut the dark with lantern light, there lived a boy who loved snow more than anything else in the world."
The author tells the story of Bentley's life and that is a story of what can happen when you follow a passion.
Mary Azarian, the illustrator who won the medal, filled the book with woodcuts colored in the blues and whites and grays of a Vermont winter, accented with reds, greens and wood shades.
A wonderful book because it is filled with wonder.
I hope you enjoyed this brief tour through a decade of Caldecott Medal winners. All of these books are in print and available at your favorite bookstore or local library. My gratitude goes out to the Los Angeles Public Library for keeping all the books in their catalogue and to my local branch librarians who helped me locate the books.
If you have little ones in your life, any of these books would make excellent holiday gifts.
Do you have any tales of your own about reading these books to kids or having them read to you?