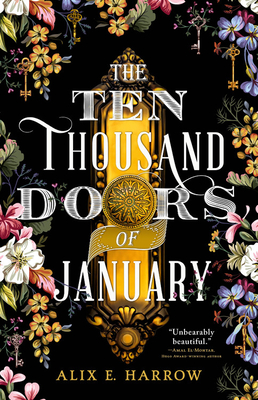 The Ten Thousand Doors of January, Alix E Harrow, Redbook Books, 2019, 371 pp
Just today I was proclaiming on one of my friend's blogs that I don't read romance novels. Then I sat down to write this review and realized that I do like love stories. The Ten Thousand Doors of January is built around two wonderful love stories set amidst a complex historical tale in the 19th century. The narrator is a woman who lost her mother in infancy and whose father comes and goes, so she is a little more than half an orphan.
When our heroine, named January, was seven she found a door to another world. The world she lived in was a world of privilege as the ward of an extremely rich man who seemed to be her protector. He was also the man responsible for sending her father on long journeys for reasons unknown to January. The door she found as a young girl and and a strange book she found later may contain answers to the mystery of her life.
I loved this book with all my heart. Not everyone does, including the other two readers with whom I discussed it, but I love them for leading me to the book. Alix E Harrow was trained as an historian, though she jumped that track and wrote a debut novel that may have a flaw or two but deals with portals to other worlds. The villains of the story are evil rich men who would have those portals closed lest they let in new and strange ideas that might upset the order upon which their wealth depends.
Ever since I read The Lion, the Witch and the Wardrobe as a child, I have been fascinated by the idea of portals that lead to other worlds. Therefore this novel was just right for me. There are wonders beyond portals, full of adventure and often danger, but always possibilities that you might find your true self, not to mention true love.
If that sort of thing appeals to you, you will want to read The Ten Thousand Doors of January.