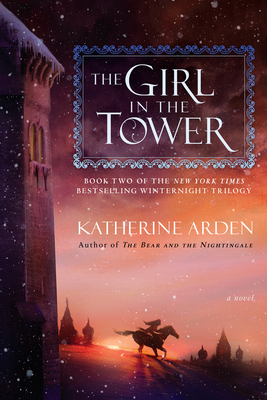 The Girl in the Tower, Katherine Arden, Del Rey, 2017, 363 pp
I do like fantasy novels when they are done to my rather picky standards. The Girl in the Tower is #2 in Katherine Arden's Winternight Trilogy. These books hit all my loves in fantasy. I would call this trilogy historical, myth-based fantasy.
Vasya is a complex yet believable heroine. She was raised on tales from her nanny, including one about the Frost King, a tale that opens the first book,
The Bear and the Nightingale
. She can see the spirits that inhabit hearths and barns. Morosko, the Frost King, is a character in these books and someone who Vasya has strong feelings for. Because of all this, she is considered a witch by her family and community.
So, I loved The Girl in the Tower as much as I did the first book. Vasya has grown into a young woman in this one, impersonating a boy and trying to avoid marriage vs the convent as she tries to help her brother who is a monk and her cousin, the Grand Prince of 14th century Moscow, save the kingdom from their dangerous enemies. She also has a fabulous horse!
Lots of story, action, tension and I never wanted to put the book down. So glad there is still one more book to read.