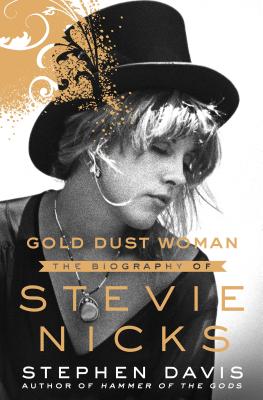 Gold Dust Woman, The Biography of Stevie Nicks, Stephen Davis, St Martin's Press, 2017, 312 pp
This is an unauthorized biography, meaning that Stevie Nicks had no say in how it was written and that the author did not interview her directly but based his book on interviews with others who knew or worked with Stevie and on other media sources.
Given that overall shortcoming, it is still pretty good. If you are or were a Stevie Nicks fan and a Fleetwood Mac fan, there is plenty to like and learn as well as plenty of inside dirt and snark. Good old celebrity culture at work.
I read it in a three day haze of reminiscence, watching videos on YouTube and having those songs running like constant ear worms. Total immersion!
When I made my second attempt at having a career in music, it was 1977. I formed a duo with the man who became my second and current husband. After learning about thirty cover songs in my attic bedroom in Ann Arbor, MI, we went out on auditions.
I was a newly divorced single mom with two small sons and barely any child support from their father, so I had to make a living. I tried working in retail, running daycare in my apartment, spent some time on welfare and food stamps, but the only marketable skill I had was singing.
Those auditions led to playing gigs in restaurants and bars, with a live-in nanny to stay with my boys at night. For a year or so my signature song was "Landslide." Girls would come up to the stage and leave notes requesting the song. Often we played it three times a night.
So yes, I have plenty of memories about Stevie and Fleetwood Mac. We loved the Buckingham Nicks album and my partner practiced Lindsey Buckingham licks for hours. We saw them in concert. We went on to form one of the top cover bands in the Detroit, MI area. It is amazing how much music I have embedded in my mind. Every time I read one of these biographies, they all come floating up.
I loved learning so much about this complicated woman. She is five feet of emotion, drive, creativity, and a tough tenderness. The story follows her entire life from childhood through the Fleetwood Mac years and her solo career, including all her lovers and how she wrote the songs and made the albums. It is a wonder she survived.
I have read other musician biographies by Stephen Davis. He wrote a version of Michael Jackson's Moonwalk, (the published book was edited by Jackson and Jackie Onassis and Davis got no credit for it.) He also co-wrote This Wheel's On Fire with Levon Helm of The Band and, the one I have yet to read, Mick Fleetwood's My Life and Adventures in Fleetwood Mac. Davis is a pro.
Still I hope we eventually get an authorized biography of Stevie Nicks written by a woman or better yet an autobiography.