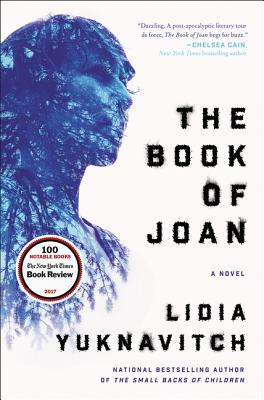 The Book of Joan, Lidia Yuknavitch, HarperCollins Publishers, 2017, 267 pp
This novel is the most post, post-apocalyptic one ever. Leave it to Lidia Yuknavitch and her fierce imagination. It is chilling, dense with story, in fact so dense it seems longer than 267 pages. Yet, I read it in two days.
Earth is as destroyed as it can be while still supporting a bit of human life. Climate change and nuclear war have left it radioactive. People must live in caves where they subsist on things that grow in the dark. Violence is still constant.
A beyond evil version of Elon Musk and the remaining wealthy people of the world live on a sort of space station platform, hovering over the planet and uploading any remaining resources via some advanced transporting technology. This leader, Jean de Men, subjects his followers to an uber police state, cult like existence but though most of the inhabitants are decadent and fooled by his "entertainments" there are two rebels.
On Earth, Joan, child-warrior, heroine, possessed of powers that echo the Orogenes in N K Jemison's Broken Earth trilogy, has been "martyred" by Jean de Men. (Actually the Broken Earth trilogy is even more post post-apocalyptic than The Book of Joan, now that I consider it.) Anyway, Joan lives to fight and die another day.
The imagery and personalities in this tale of horror are beyond disturbing. Perhaps only Lidia Yuknavitch could have created such things. The action is non-stop and almost addictive. It is not all gloom and doom however. Out of ultimate destruction comes hope and even possible enlightenment for humanity. If a reader can stomach the horror, The Book of Joan is an amazing read.
I have been drawn to these sorts of books lately. I blame N K Jemison as well as our current President and his lackeys. I hereby create a new genre sobriquet: Not For The Faint Of Heart.