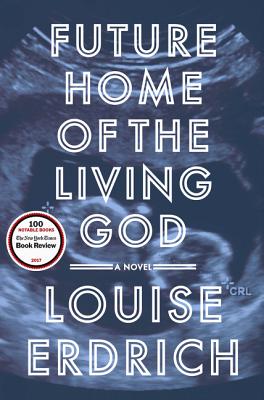 Future Home of the Living God, Louise Erdrich, HarperCollins Publishers, 2017, 267 pp
I have been reading Louise Erdrich for over a decade. While I have not read her early novels yet, I have read most of her 21st century ones. And I have loved every one of them. However, I have noticed that her work has a polarizing effect on readers. From reviewers to bloggers to Goodreads to reading groups, they either love her books or purely cannot stand them. It seems to have happened again with this one.
I was captivated by this futuristic story of an Ojibwe woman, adopted and raised by an impossibly liberal white couple, on the run from that white world, desperately searching for her Ojibwe roots, and in great danger.
Cedar is 26 years old when she finally meets her birth family who live on the res. She is pregnant at a time when a strange anomaly has appeared. Evolution seems to have gone in reverse, causing women to give birth to abominations. The government has stepped in to sequester all pregnant women with the purpose to do away with the "unnatural" babies and to keep in captivity the women who gestate normal babies so as to prolong humanity.
Cedar, having had an excellent education and an almost perfect childhood, is no dummy. She edits a progressive magazine, is married to a man she loves (and feels she can trust) and she has courage in abundance. When she finds herself pregnant though, all bets are off. She suddenly becomes obsessed with learning about her origins and is quickly made aware that she cannot truly trust anyone.
It is a wild tale, a thriller really, infused with Erdrich's usual mix of facetiousness and clear eyed portrayal of the relations between Native Americans and the white patriarchy. The characters in her novel leap off the page as complex beings, all of whom are dealing with the times in the best ways they know how.
A notable national book reviewer asked if we really need another Handmaid's Tale. What a silly question! Of course we do!! That is like asking if we really need another WWII novel or Holocaust novel or Civil War novel or slavery novel, etc, etc, etc. Also I don't believe we have had an apocalyptic novel that includes Native Americans. (Correct me if I am wrong about that.) I could also be wrong when I say that Louise Erdrich has not written a thriller before, so she had a right to do that.
Bottom line: You can believe the negative reviews or find out for yourself by reading the book. Even if you do read it, you could be dismayed because this one is a new adventure from Louise Erdrich. I think she created something shocking and wonderful.