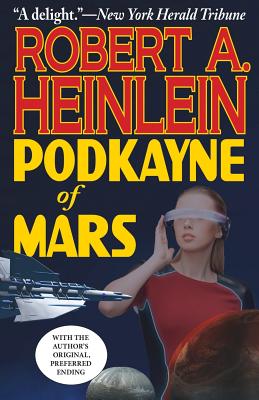 Podkayne of Mars, Robert A Heinlein, G P Putnam's Sons, 1963, 170 pp
This sci-fi, adventure, space yarn is the second Heinlein book I have read from 1963. It started out just fine. Podkayne is a teenage girl, born and raised on Mars, with a burning desire to visit Earth and a goal to become a space pilot and commander of deep-space exploration parties. She is smart and brave, not opposed to "marriage in due time," but has big plans for her life.
She loves her family. Her mother is a master engineer, often away from home for her profession, her father a historian, and her younger brother an annoying genius.
After several delays she, her beloved uncle and her brother do set off for a journey to Earth via Venus. They endure radiation storms, Podkayne gets to hang out with pilots and learn, and they get into horrendous danger on Venus.
Along the way are many annoying bits about Podkayne realizing that it doesn't do to appear too intelligent around men and other ideas similar to the advice I used to read in Seventeen magazine in the 1960s. I thought perhaps Heinlein was mocking such ideas. Finally comes the shocking and tragic ending.
Well, it turns out that Heinlein's publishers didn't like this ending and convinced him to change it, but the Phoenix Pick reprint I read (published in 2015) restores his originally intended ending.
There follows a letter from Heinlein to his agent, dated 1962, stating that his original ending was intended to show that it is all the mother's fault because she was "the highly successful career woman who wouldn't take time to raise her own kids." That aroused my rage and thinking back on the story, all the clues to that viewpoint were there.
I will continue to read Heinlein just to see what else he does and to do my own study of a highly successful career man who held such views, to be aware of how he perpetrated such stuff in his fiction, to keep me aware of this poison as I live and read. It was still the mid 60s when he wrote this one. Maybe he got over it?
I have nothing against motherhood, I have nothing but admiration for women who manage both careers and raising children, and I have respect for women who admit they cannot or do not want to do both and must make a choice. I do have everything against a man prescribing how a woman should lead her life.
(
Podkayne of Mars
is available in the revised Phoenix Pick paperback with the original ending by order from
Once Upon A Time Bookstore
. If you want the 1963 ending you will have to find a used copy of the G Putnam's Sons book published back then.)