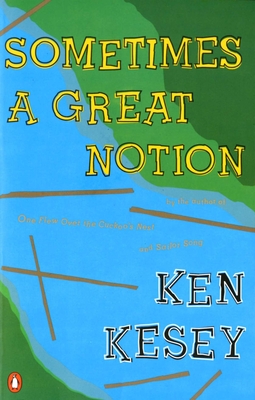 Sometimes A Great Notion, Ken Kesey, Viking Penguin, 1964, 628 pp
Summary from Goodreads:
This wild-spirited tale tells of a bitter strike that rages through a small lumber town along the Oregon coast. Bucking that strike out of sheer cussedness are the Stampers. Out of the Stamper family's rivalries and betrayals Ken Kesey has crafted a novel with the mythic impact of Greek tragedy.
Most people only know of Ken Kesey, the novelist, because of One Flew Over the Cuckoo's Nest. Some people know of him as the grand master of the Merry Pranksters in all their counter-cultural madness. "Either you're on the bus or you're off the bus." Sometimes A Great Notion was his second novel. It is long, it is deep, it is a bit experimental, but it is also considered his masterpiece.
I spent four days reading the book's 628 pages. The last two days I read over 200 pages a day because once I got through the eye of the needle that was the beginning, I was exponentially more enraptured every day. If you like long novels, this is one well worth spending your time reading.
The novel concerns an Oregon logging clan, their struggles, their successes, their deep family problems. If at any moment it feels like the Stampers are going down, you don't find out until the very end if they will.
Such fully fleshed heroic characters, such desperate dysfunction, such glorious writing about the people, the location, the weather, the physical and emotional strife. Such eccentricity in the face of change, such sheer cussedness indeed!
John Steinbeck is probably the most famous writer of the American West. Another guy who became well known for one novel: The Grapes of Wrath. Both went to Stanford University, both wrote about the plight of the common man. They were a generation apart. I would bet that Kesey read Steinbeck. My favorite Steinbeck novel is East of Eden. I think Sometimes a Great Notion was Kesey's East of Eden.