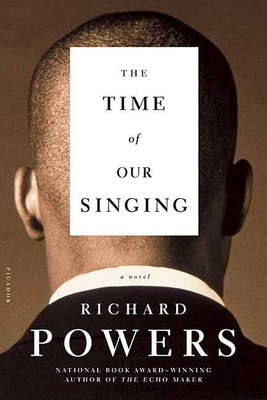 The Time of Our Singing, Richard Powers, Farrar Straus and Giroux, 2003, 631 pp
This completely wonderful novel was the fifth I have read in my 2019 challenge to read all the Richard Powers novels in reverse order of publication. It is as great in its own way as The Overstory and Orfeo.
I have complained in years gone by when white authors try to tell us about African Americans. Some authors also have trouble writing characters who are of the opposite sex, but a great writer can seem to inhabit the humanity of anyone and Richard Powers is one of those.
Delia, a young Black woman with aspirations to become a classical singer, goes all on her own to Washington, DC, on Easter, 1939 to watch her idol, Marian Anderson sing on the Washington Mall. An epochal concert at an epochal location. Right after the concert, in the enormous crowd, Delia meets David, a German Jewish scientist who by luck escaped Germany but lost his entire family to the Nazi horror show.
Their connection is instant and undeniable. Against Delia's parents' wishes they marry, have three children and attempt to raise them outside of racism as an example of how the future could be. A dream of love and hope infused with music and song and Einstein's theories about time.
Of course the future has not yet come! Will it ever? These mixed race children, all extremely bright and musically talented, must each find his or her way through time, through racism, through everything late 20th century America has to offer.
To be young, gifted, and half Black.
Human beings, with our opposable thumbs, our clever minds, our opposable abilities to create constructively and destructively, our frail bodies at the mercy of the elements, our volatile emotions. Oh my, the stories we live, tell, sing about, write and read. Some people like to read comforting stories about love conquering all and the family ties that bind. Others like to read horror stories about crime, war and psychological strife. I like to read about everything and only require the artistry of the writers to be equal to telling the tales.
When Richard Powers, who has sufficient artistry, also includes music he really soars, as he does in The Time of Our Singing. I am a singer, lately at home or in my car, but I have always loved to sing. He reached right into me with this one.