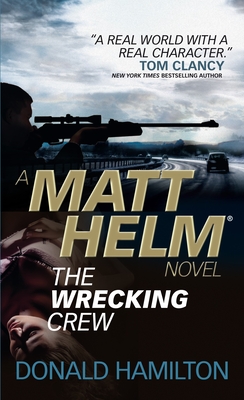 The Wrecking Crew, Donald Hamilton, Faucett, 1960, 176 pp
This is the second book in Donald Hamilton's Matt Helm series, about an assassin for a secret government agency which is probably some department of the CIA. I thought the first one was pretty good, wasn't sure if I would go on. But I am having a bout of obsession with the CIA. Perhaps because I am currently reading Robert Caro's The Passage of Power, #4 in his biography of Lyndon B Johnson. In the section I read last week, LBJ is Vice President to John F Kennedy and the whole Bay of Pigs and Cuban Missile Crisis has been going on. The CIA was deeply involved with attempts to assassinate Castro.
In The Wrecking Crew, Matt Helm has been sent to find and destroy a Russian agent. The locating of and chase after this mythically elusive agent takes place in Sweden. It is winter and it is cold. He finally faces Caselius in the north woods of the country's ore region.
As in the first book,
Death of a Citizen
, the women are sexy and dangerous. Helm has to deal with annoying agents on his own side, never sure who he can trust. The story put me in mind of
The Girl With the Dragon Tattoo
series due to the location, though Hamilton indulges in some typical 1960s cringe-worthy descriptions of his female characters. Two of them die during the caper. It's all in a days work in these early secret service novels.
Still, it was a quick and entertaining read. I decided I would continue with the series. Thanks again to blogger Lisa at
Captivated Reader
for finding these books for me.