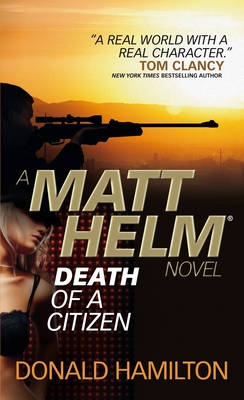 Death of a Citizen, Donald Hamilton, Titan Books, 1960, 227 pp
Some months ago I wondered out loud on this blog if there were any novels about the early days of the CIA during the Cold War. Lisa at
Captivated Reader
went to work for me and found the Matt Helm series.
Death of a Citizen
is the first in that series.
Matt Helm had worked for the CIA (or its preceding organization) during WWII. He left the service after the war, married a lovely woman and had two kids. He became a writer of popular Westerns and thought he had made a pretty good life for himself.
However, his old boss, now a CIA guy, came looking for him in the guise of Helm's former partner during the war. His assassin nature reared up, as well as his lust for Tina, that former partner. He was back at it. This time he was supposed to save the life of an American nuclear physicist.
Death of a Citizen is a fast-paced thriller with plenty of sex, blood, double-crosses and mysterious persons. Matt has a style all his own preferring knives and pistols. His attitude toward women is definitely mid-20th century and his mental state is naturally conflicted.
I liked the book well enough to try a couple more in the series. I hadn't thought the CIA carried out missions inside the United States. I thought that was the FBI's territory. Clearly I have more to learn.