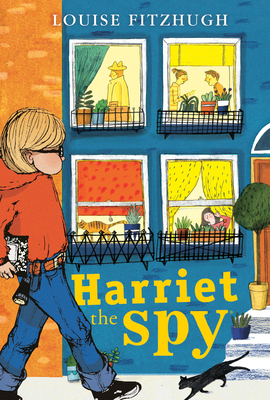 Harriet the Spy, Louise Fitzhugh, Random House, 1964, 300 pp
THE SUNDAY FAMILY READ
It was with great anticipation that I opened this middle grade novel from 1964. I have often come across characters in other novels who mention Harriet, as well as writers who extol the book for being influential to them from childhood. In fact, Miriam Toews, author of
All My Puny Sorrows
, said in an interview that
Harriet the Spy
was one of her favorite books as a kid.
I was expecting a lot and I got a lot but not what I expected. It is true that Harriet is plucky, always a good personality trait for a middle grade female protagonist. It is also true that she has to learn hard lessons and overcome a sort of bullying. She is not, however, a particularly nice child.
Harriet is impulsive, nosy, noisy, sometimes rude and quite judgmental about the grownups and kids she interacts with. She carries a notebook with her at all times, jotting down her observations about these people. She goes to school and does her homework but considers her real work to be spying. Everyday after school she visits locations on her "route" and notes what is going on.
Eventually I got used to Harriet, even feeling sympathetic to her approach to life and admired her independence. Being the only child of wealthy parents who had turned her over to a "nurse" whom she calls Ole Golly (a wise sort who encourages Harriet while giving good life advice) it is quite a shock to the girl and the reader when Golly finds a suitor, marries him and moves away.
Harriet's journal and her disturbing behavior after Golly leaves land her in big trouble at school. She overcomes it but the lesson she "learns" is to remain true to herself and use her proclivities more cunningly to turn her situation around.
By the end, I got why so many admire the book. It is a story for rebels, outliers, fiercely independent types, and of course writers. Harriet discovers she is a writer but also that her spying powers her writing. She could grow up to someone like Patricia Highsmith!!
Warning to moms: if you want your daughters to become nice, well-behaved women who fit in comfortably, don't let them read this one.