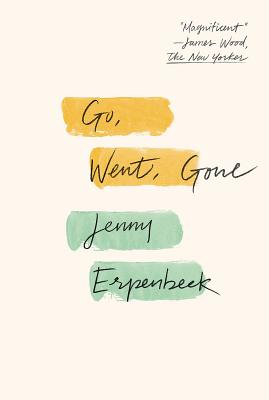 Go, Went, Gone, Jenny Erpenbeck, New Directions, 2017, 283 pp (originally published in Germany by Albrecht Knaus Verlag, 2015; translated from the German by Susan Bernofsky.)
This reading group pick was an interesting look at another country's immigration problems. I had heard much praise for Jenny Erpenbeck's fiction and was glad to be introduced.
Set in Berlin, it is a ripped-from-the-headlines topic put into a fictional story. Richard, a retired classics professor, is at loose ends. His wife is no longer living and he feels without a project.
He notices some African refugees on a hunger strike outside the tent city where they have been living. Curious, he makes up a questionnaire and begins to interview individual refugees. Little by little, he becomes involved with several of the men, trying to help them. Naturally that forces him to learn about how his country is handling what has becomes something of a crisis.
Of course, the rulings and proceedings are a Kafkaesque maze of barriers for the refugees. They are not allowed to work without proper papers which are nearly impossible for them to get. Then the news makes these people look like moochers wanting handouts.
As Richard develops relationships with some of these men, the reader learns how much they have lost, how bored they are with nothing to do after being used to hard work in their home countries, and how the wars at home created by outside interference both political and business related have caused them to be forced to flee. It is enough to make your blood boil.
I recently read
The Map of Salt and Stars
, another angle on this mess. Richard with his classics knowledge does this cool thing of relating current turmoil to ancient history.
Go, Went, Gone
added even more understanding to realizations I have been having about how history is going.
It seems to me that the history of mankind on this planet is a continuous series of upheavals as peoples vie for resources, territory, and power. Sometimes there are periods of peace in one area or another, other times certain rulers amass enough power to control large areas for long periods of time. Thus advances are made in science, art and philosophy but eventually conflict erupts again, when the less powerful and the oppressed rise up.
It is as if the cultures of the world are contained in a vast Cuisinart. All gets churned, sliced and diced as new groups rise to power. Right now in the world that start button on the Cuisinart is being held down and nobody likes it. Yet the daily lives and stories of us all go on.
I didn't love Go, Went, Gone as much as I did The Map of Salt and Stars but it gave me more to think about. Jenny Erpenbeck is a wonderful writer and I will read her earlier novels.