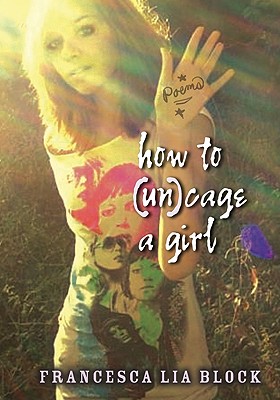 How to (Un)cage a Girl, Francesca Lia Block, HarperCollins Publishers, 2008, 120 pp
This book of poetry is by the author of the stupendous
Weetzie Bat
, my favorite YA novel ever! After I finished the
WB Yeats collection
in September, I went to my shelves and found only three books of poetry: an already read collection of Edna St Vincent Millay, The Standard Book of British and American Verse published in 1932, and a signed advance reader copy of these poems by Block. That night I opened
How to (Un)cage a Girl
and resumed my new poem-a-day practice.
There is no doubt that these poems come from the unique sensibility of Francesca Lia Block. Magical, emotional, probably auto-biographical. In three sections she does teenage years, young woman years, and more mature woman years.
The poems express the secret thoughts of women. While they are set in a world of adventurous, sometimes misbehaving females, I think that even the most proper, well-behaved women have these secret thoughts and feelings.
I just ordered Sylvia Plath's Ariel. Female poetry is what I need these days. Are you reading poetry? If yes, what?