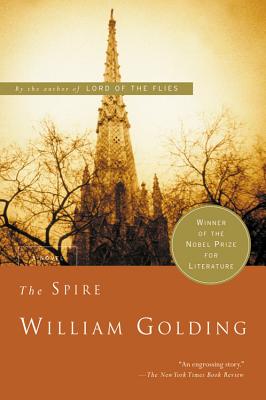 The Spire, William Golding, Harcourt Brace & World, 1964, 215 pp
Imagine my surprise when I started William Golding's 1964 novel The Spire and found myself in a fictional Salisbury cathedral. I have read four of Golding's novels, including his most famous Lord of the Flies, but never have I found a priest among his protagonists.
Dean Jocelin, the head priest, has a vision as well as an obsession to have a 404 foot high spire built onto his cathedral. He feels it will honor God and draw parishioners from miles around. He forces his will upon his architect, the workers and the townspeople. If he gets it built it will also, as the reader gradually learns, bring glory to himself.
In the medieval times of the novel's setting, such spires were being built onto churches across Europe, advancing architecture by leaps and bounds. New techniques had to be developed to support such height and weight. But Dean Jocelin's church has shaky foundations which cause the rising walls to shriek and wave in the wind while driving the architect/chief builder to despair as he tries to carry out the project.
It turns out this novel is a descent into madness tale. I love those! Thus it fits Golding's usual theme about man's will versus hardship and tragedy. The gothic setting, certain dark secrets carried by the priest, and the author's keen insights into human psychology made the book great for me.
However, once again I was confronted with stream-of-consciousness passages, multiple narrators, and as an additional touch, plenty of allegory, so it was a challenging read as well. Golding is the fourth Nobel Prize winning author I have read this year so far. His writing is a feat as amazing as the spire itself.