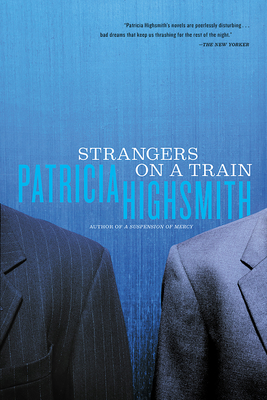 Strangers on a Train, Patricia Highsmith, Harper & Brothers, 1950, 281 pp
I have been reading Highsmith for several years but just skipped around. I decided to go back and read the books I've missed. It turns out this was her debut novel. Most people know the movie, adapted by Alfred Hitchcock. Raymond Chandler was one of the screenwriters!
Two men meet on a train. Guy Haines, a successful architect with a new love is traveling to his small hometown in Texas, planning to meet with his first wife Miriam and convince her to get a divorce. There are complications and he is approaching complete hatred for the woman. Charles Anthony Bruno is the psychopath of the story, hates his stepfather, adores his mother, and drinks way too much.
The two men do not exactly hit it off but Bruno floats the idea that they could swap murders. He will kill Guy's wife, Guy will kill his stepfather. Of course Guy sees the insanity of it all and does not agree.
When Miriam does turn up dead a few weeks later, the reader knows Bruno did it, Guy suspects he did. Bruno shows up in Guy's life again, stalks him and finally manipulates him into enough madness to carry out his end of a bargain he never agreed to.
It is all there in her debut novel: the lurking menace, the psychological factors that push an ordinary person into crime, and the suspense that feature in every one of her books. No wonder Hitchcock wanted to make the movie, though the story was changed radically.
You know all those psychological thrillers that seem to come out daily lately? Yes, those. I am more convinced that ever that Patricia Highsmith birthed the genre. No one has done it better. In fact, now that I have read seven of her novels, I feel compelled to read the rest.
Patricia Highsmith novels I had read so far before this one:
The Talented Mr Ripley
Deep Water
A Game For the Living
The Price of Salt
The Cry of the Owl
The Glass Cell
Have you read any of these?