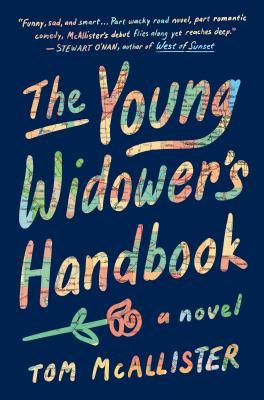 The Young Widowers Handbook, Tom McAllister, Algonquin Books, 2017, 282 pp
The January 2017 selection of The Nervous Breakdown Book Club has a misleading title. It surely is a perceptive blend of whimsy and tragedy. Hunter Cady did indeed lose his young wife too soon. The novel however is distinctly not a handbook. It is a road trip novel, one of my favorite types of stories.
Now that I think about it, except for Thelma and Louise, most road trippers are male, either in search of adventure or looking for themselves. Some run away from loss, some run for their lives after a crime. A road trip can be a way of accelerating change.
Hunter Cady, carrying his wife's ashes, to which he often talks, escaping his wife's mother as well as his own, is sure no one will ever understand and accept him as Kaitlyn did. He does find wry adventure and comes to find a new version of himself.
This debut novel may not be a masterpiece but it is nicely done and gave me hours of emotional ups and downs while ultimately leading me to a feeling of well being.