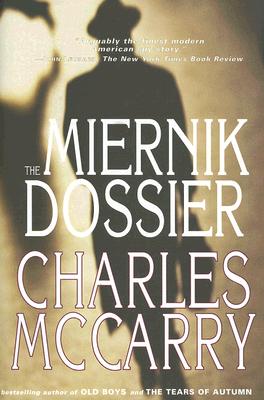 The Miernik Dossier, Charles McCarry, The Overlook Press, 1973, 256 pp
One of my duties as a wife is to find books for my husband to read. He enjoys this service! When I came across Charles McCarry, I thought we both might like him but
The Miernik Dossier
, his first book, got some worrisome reviews while his second,
The Tears of Autumn
, got raves. So I got the second one and we both found it excellent. Husband requested
The Miernik Dossier
, no matter what, and we liked it just fine.
Paul Christopher is the series' character. The Miernik Dossier is a spy road trip novel told via reports from different agents all working undercover at the World Research Organization in Geneva, a specialized agency of the UN. The time is 1959. The villain of the times of course is communist Russia.
The negative comments I had seen about this book center around the format and I get it. Reading reports, internal memos, transcriptions of recorded conversations, was at first off-putting. Also each agent was referred to sometimes by last name, sometimes by first. I felt confused.
Reading on despite all I became hooked on the story, figured out the whats and the whys and was thoroughly entertained. I finished the book impressed by an intricacy which kept me guessing, worried and on the edge of my metaphorical seat.
Crossing the African desert in a Cadillac with Paul Christopher, the American operative, a British agent plus his wild girlfriend, a Muslim prince and a Polish scientist suspected of leading a Russian terrorist plot, was the most mysterious yet fun road trip I never actually took.