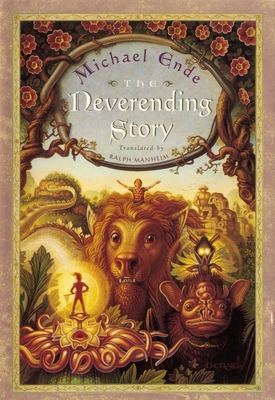 The Neverending Story, Michael Ende, Doubleday & Company, 1983, 396 pp (originally published by K Thienemanns Verlag, Stuttgart, 1979; translated from the German by Ralph Manheim)
I have been meaning to read this book for years. My blogger friend, Marianne from The Netherlands, mentioned it in a list of
Top Ten Books I wish I read as a child
and reminded me. I searched it out the next time I was at the library and it became the second children's book I read in June.
The story is fantasy truly in the German fairy tale style. Bastian Balthasar Box is a fat little boy of about 10 years. He is motherless, bullied at school, loves to read and has a somewhat distant father. Kids with missing mothers just go with fantasy, don't they?
One rainy morning on the way to school, Bastian darts into a bookshop to escape the boys chasing him. He meets the curmudgeonly owner and ends up stealing a book while the man isn't looking. Hiding away in the attic of his school, he reads the book and finds himself inside the story. Eventually he becomes a hero in the land of Fantastica and learns many lessons from all sorts of creatures.
The copy I read is exquisite. Each chapter starts with a letter of the alphabet set in a detailed illustration. That letter is the first letter of the first word in the chapter. Whenever Bastian is on earth the type is red, when he is in Fantastica it is green.
The emotional impact is strong. If I had read this at 10 years old, I might have seen the sense in what my parents were trying to teach me about life. Like Bastian, I insisted on figuring that out on my own by reading books. I was also a fearful child and may have gotten over my fears earlier and saved myself a lot of mistakes. But the book did not exist when I was 10.
However, reading it at my advanced age I could appreciate all the philosophy the story carries. It was as deep as any of the books I have read by Herman Hesse. I loved The Neverending Story on every page.