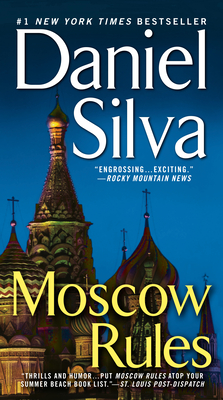 Moscow Rules, Daniel Silva, G P Putnam's Sons, 2008, 425 pp
Another great thriller in the Gabriel Allon series. This time the Israeli assassin gets mixed up with an evil arms dealer in early 21st century Russia. In the post-communist years of gangsters and oil wealth, former KGB personnel are cashing in while using the same old techniques. Gabriel is forced to learn the Moscow rules of espionage.
Ivan Kharkov is about to deliver a huge shipment of deadly weapons to al-Qaeda which will be used for terror attacks against major cities, more deadly than 9/11.
Gabriel goes to Moscow due to the death of a journalist who was critical of the Kremlin. Her newspaper's publisher had requested a meeting with Allon. While he is there, undercover, Karkov's wife approaches him with a deadly proposition.
It takes Silva quite a few chapters to set the scene and introduce all the characters but the tension builds and once Gabriel gets to Russia I was convinced I was reading a realistic portrayal of conditions there in the early Putin years.
As always, Daniel Silva was a few steps ahead of our times. I read an interview concerning how he keeps writing about incidents similar to what eventually happens in the real world. His answers were eye-opening. I suppose those of you who avidly follow good news reporting can also read between the lines.
Moscow Rules is Silva's 8th in the series. His latest, The New Girl, #19, came out just the other day. If I could read one a month, I could be caught up by the time his next one comes out. It is tempting.