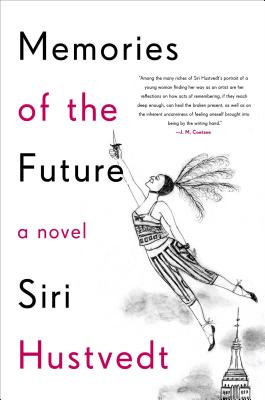 Memories of the Future, Siri Hustvedt, Simon & Schuster, 2019, 315 pp
This is the fourth Siri Hustvedt novel I have read. It sounds hyperbolic but I pretty much worship this author for her intelligence and her well formed feminist views. My top two favorites are
What I Loved
and
The Blazing World
. I think
Memories of the Future
is her most tricky and complex novel yet and don't expect everyone to like it. In fact, possibly many readers I know would not like it at all.
What she has done is created a fictional memoir. In the process she examines memory, the female in the arts, a #MeToo incident, and the power of imagination, anger and rebellion to lead a woman to freedom despite all.
Since I am trying, and mostly failing, to write an account of my own life, I found gems in Hustvedt's novel as to how it can be done. I have thought of taking a class in memoir writing but have a horror of someone else telling me how to do it before I have made all my own mistakes first.
I have been reading through a self-created syllabus of actual memoirs and autobiographies. Each time I read one I am given illuminations. Probably not the most efficient way to go about getting the project done but I learn the most about writing by reading.
Here in Siri Hustvedt's ficitonal memoir is another clue: writing memoir is a dialogue among one's various selves over the decades. I was beginning to realize that on my own but I got a brilliant example of how to do it.