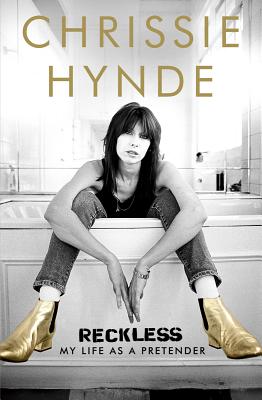 Reckless, My Life As A Pretender, Chrissie Hynde, Doubleday, 2015, 312 pp
I meant to read this when it first came out. Then I forgot. Earlier this year I was reminded when my blogger friend Susan at
The Cue Card
reviewed it.
Who was not a Pretenders fan in the 1980s? I was singing in a cover band at the time (back then it was known as a TOP40 band because we performed the hits of the day as long as people could dance to them.) I sang "Brass In Pocket" with all my heart, though I could never quite capture the sound of Chrissie's voice.
Her memoir is a trip through the 50s, 60s, and 70s. First in her hometown of Akron, OH, where her dad worked for Bell Telephone and her mom was the embodiment of the "feminine mystique." Chrissie was a good girl in her childhood but once she got hooked on music her path was set.
The 60s was high school, getting high, and going to see any band she could get a ride to. Somehow she graduated and got accepted at Kent State. Yes, she was there in the crowd during the shooting of college students protesting the Vietnam War.
Chrissie was not born under a bad sign. She had luck protecting her throughout a wild and dangerous young adult life. She learned guitar, she loved guitar gods, she took anything available to get high, but always she was trying to form a band. It was a long time coming but finally in London, The Pretenders became reality. Her book tells the whole story.
The Pretenders also became on "overnight" success. None of us knew it had taken her over a decade to get there. The substance abuse of course went into overdrive but her luck held. Like any self respecting rocker who plans to have a long career, she eventually quit all the drugs and tours to this day.
Chrissie Hynde is not only a great songwriter. She is a great writer. Reading her book is like having her right in your head telling her incredible story. Quite simply, she rocks!!