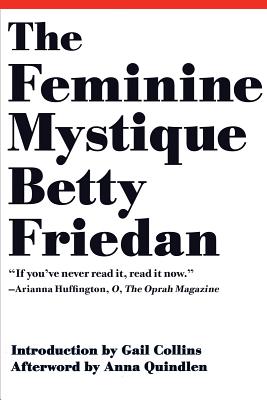 The Feminine Mystique, Betty Friedan, W W Norton & Company, 1963, 395 pp
Getting through his iconic feminist text took work but I am so glad I read it. The work of reading it took different forms.
Hardest to read were the passages where she cited primary sources such as Freudian psychiatry, sociology, magazine writing, and the advertising of the times. Only when I reached the end of the book did I appreciate the meticulous way in which she built her thesis. It made for a good many pages of fairly dry reading.
I understand why she did that though, because as a woman writing about women in the early 1960s, she knew she would take some heat and had to stand strong.
Another part of the work for me was all the emotion she evoked. I was only a sophomore/junior in high school when the book was published. I did not know of it then but I wondered if my mother had read it. One day near the end of her life, my mom told me and my sisters that when she was raising us she often felt she had lost track of who she was!
The book got me thinking about and remembering what it was like being raised in a suburban New Jersey town by a stay-at-home mom. I realized that she had channeled all her creativity as a musician into running a home, managing her husband and bringing up three daughters. I also gained plenty of insight into why I felt so smothered by her when I was a kid.
Then I pondered the choices I made as a young wife and mother. I felt chagrined to recognize how much the "feminine mystique" still had a hold on me in those years and caused such conflicted emotions and guilt as I tried to also follow my own dreams and keep a semblance of my own identity.
All in all, it was a rewarding reading experience despite how long it took to get through the book. After all, it was THE book that started second wave feminism. All the later complaints about The Feminine Mystique lacking diversity are true. The women Betty Friedan was writing for were the white, middle class citizens of America. Even so, she hit on universal truths for women: the importance of birth control, legal abortion, education, and the right for all women to be fully contributing members of society.
I feel this is an important book that traces why and how women were sent back home after WWII and what that did to us and our children. It was an eye-opening book to read in 2017.