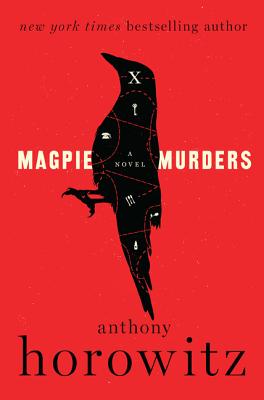 Magpie Murders, Anthony Horowitz, Harper, 2017, 496 pp
I was looking forward to Magpie Murders, read for one of my reading groups, but while I enjoyed it I wasn't as crazy about it as it seems almost everyone else in the world was. It is a mystery within a mystery, the two are interrelated, and it just felt too long. That may have been because I started reading it a bit too close to the meeting date causing me to rush through in my best power-reading mode.
The mystery within a mystery is one "written" by the fictional Alan Conway, a bestselling British crime writer. His entire book, Magpie Murders, is reproduced in the novel I was reading, also called Magpie Murders. Are you confused yet? I am quite certain that Mr Horowitz intended so.
The actual mystery which must be solved by Alan Conway's editor Susan Ryeland, concerns the death of her author. Did he commit suicide or was he murdered? Why was the manuscript he turned in just days before his death missing the last chapter? It is all too clever by half, as they say in England.
Bottom line: if you like Agatha Christie style mysteries with plenty of red herrings, a long list of suspects, and a sleuth who figures out who and why before you do, you will love this one. In fact, you will double-love it. I liked Alan Conway's mystery better than Anthony Horowitz's. That is just weird because Horowitz wrote them both.