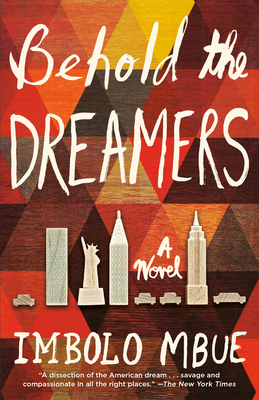 Behold the Dreamers, Imbolo Mbue, Random House, 2016, 382 pp
This is an excellent novel. The author, Imbolo Mbue, is an immigrant from Cameroon to the United States, as are two of her main characters. She has been a resident of the US for a decade and got her education here while her characters are basically undocumented and struggling mightily to get legal.
Contrasts are the theme. Jende Jonga and his wife and son live in Harlem. She has a student visa due to expire. Jende is undocumented and working with a questionable lawyer to get a green card. They live close to the poverty line, roaches and all, but are joyful and hopeful for the better life they will give their children.
Clark Edwards and his wife are part of the one percent. He works as a senior executive at Lehman Brothers and hires Jende as his driver. His wife Cindy somehow rose from poverty herself and snagged a trophy husband but she is not happy, drinks too much, and takes pills. Their grown son has refused law school and taken off for India to find a "truer" life.
When Lehman Brothers goes down, Jende loses his job and you know the rest. So, stereotypes possibly but Imolo Mbue uses her characters and the events of the time to show us American citizens with all of our relative wealth and privilege what the American Dream means to us and to them.
The book is unputdownable and made for a good, long, impassioned discussion in my reading group. All kinds of attitudes I hadn't known were harbored in the minds of my fellow readers came to light regarding said dream, immigration, and our lack of understanding about today's immigrants known to us primarily as gardeners and nannies. At one point, as our voices rose around the table where we meet at Barnes & Noble, as one member said, "They don't belong here," a young woman cruised by announcing herself as a Dreamer and said, "Yes we do!" It was a 2017 moment.