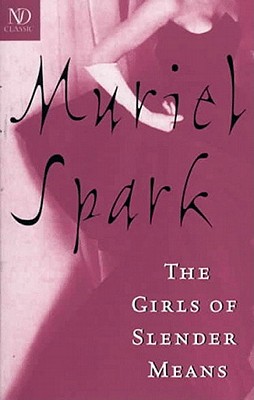 The Girls of Slender Means, Muriel Spark, Alfred A Knopf, 1963, 142 pp
Summary from Goodreads: Like the May of Teck Club itself—"three times window shattered since 1940 but never directly hit"—its lady inhabitants do their best to act as if the world were back to normal: practicing elocution, and jostling over suitors and a single Schiaparelli gown. The novel's harrowing ending reveals that the girls' giddy literary and amorous peregrinations are hiding some tragically painful war wounds.

Chosen by Anthony Burgess as one of the Best Modern Novels in the Sunday Times of London, The Girls of Slender Means is a taut and eerily perfect novel by an author The New York Times has called "one of this century's finest creators of comic-metaphysical entertainment."
I can always count on Muriel Spark to cheer me up. "Comic-metaphysical entertainment" indeed. I have now read seven novels by this Scottish born writer and have only scratched the surface of her work. She wrote 24 of them before she died in 2006 at 88 years of age.
These mildly impoverished female survivors of WWII live in an old boarding house in London, surrounded by bomb wreckage. Ages vary and even within the building there is a class hierarchy because it is, after all, Great Britain in the postwar world. Rationing is still a hard burden and they are all single but mostly looking for love
While keeping their chins up, they hold the general feeling that "all the nice people in England were poor, allowing for exceptions." Except none of them are all that nice and every one holds wounds of one sort or another, mostly emotional ones.
Why did reading this short novel cheer me up? Because we all harbor certain wounds and life is never certain, but it is entertaining to have a look at how others in another city and country, another century, deal with theirs.
Their petty squabbles, their determination to carry on, even the violent ending, made me feel less alone.