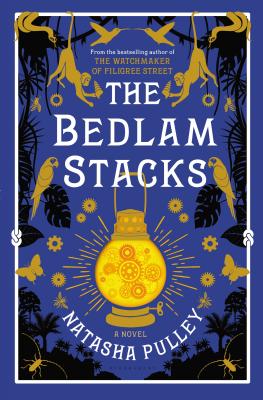 The Bedlam Stacks, Natasha Pulley, Bloomsbury, 2017, 328 pp
A wondrous and fun read! What is it about British women who write fantasy-type novels? Something special, that is for sure.
Merrick Treymayne has been an intrepid agent for the East India Company but now he is laid up in the family home with a bum leg. (Thanks to
Shadow of the Moon
I was grooved in on the circumstances of that august company in 1859.) His former boss at the India Office recalls him for an expedition to fetch quinine from the Amazonian region of Peru.
Clem Markham, based on a historical figure, and Merrick's best friend, is to lead the expedition. He is one of those gung-ho types and convinces his friend that he can make it in the jungle despite the leg. Merrick does but his leg hurts the whole time and he is forever grousing about it.
The best character in this story full of amazing characters, is Rafael, a Peruvian Catholic priest. He is also the preserver of Andean spiritual traditions and cares for the markayuq: wooden statues which are considered to be actual people turned to stone, can move around in mysterious ways, and are guardians of sacred spaces.
(OK, so in the two volumes I've read so far of N K Jemison's Broken Earth trilogy,
The Fifth Season
and
The Obelisk Gate,
there are creatures called Stone Eaters, humans who turn to stone! Is this a thing? I have not come across this in any book before.)
Raphael is himself afflicted with a degenerative condition that gives him bouts of unconsciousness lasting anywhere from hours to months, is very old, very wise, has known two ancestors of Merrick's who also made expeditions to Peru, and becomes Merrick's best friend ever.
Bedlam is a village, also called New Bethlehem. The author's imagination and world-building skills make it one the most astonishing creations I have ever found in fantasy.
The novel is also historical fiction because the East India Company did send expeditions to Peru to obtain quinine from the bark of cinchona trees, desperately needed to treat its workers in the East who suffered from malaria. So there is another whole plot concerning the dastardly practices of people trying to bring cuttings of the tree out of Peru and the natives who seek to prevent this First World rip-off of their natural resources.
By now, I hope you are dying to read the book and I hope you do. I must warn you that as thrilling as it is, it does not move at a thriller pace. The opening section at Merrick's home is confusing in the extreme. You just have to go with it because all becomes, mostly, clear by the end. The bits that remain mysterious are lost in the mists of time and explain why world travelers always put Machu Picchu on their bucket lists.