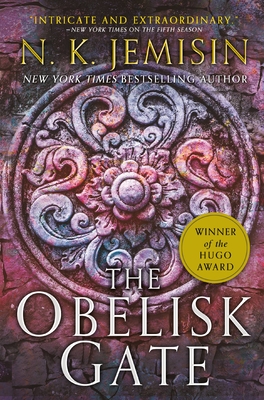 The Obelisk Gate, N K Jemisin, Orbit, 2016, 391 pp
In the second book of her Broken Earth trilogy, for which N K Jemisin won the Hugo Award for the second year in a row, we continue to follow the characters from the first book,
The Fifth Season
. A minor character from the first book becomes a major one.
Essun and her daughter Nassun, who were cruelly separated in the earlier book, alternate chapters. If you have ever had a child taken from you, this story will rebreak your heart. The determination of both to find each other in the aftermath of the chaos which began in The Fifth Season, is the emotional heart of the story.
In addition, more of the background to the world of The Stillness is made known to the point where it became crystal clear that this is one of the farthest-into-the-future worlds I have come across in any kind of fiction, ever! Positively chilling to imagine that the forces which are, whether we believe it or not, destroying our earth could lead to what the author posits in these books.
I had a little trouble with the voices. The mother Essun's story is told in second person, her daughter Nassun's in third person, and then there is another third person voice who is not identified. For many pages, this was freaking me out but finally I just went with it. I am hoping it all becomes clear in the final volume. As in the first book, more and more is revealed about what is going on, what happened in the past, and which characters are working for good, which for evil.
I admire N K Jemisin for being so out there with this series. I imagine she wondered if what she was writing would be read by anyone at all, yet still she went ahead and told the story she had to tell. I think one could read these books on a couple different levels, either for the adventure of the tale and/or for its parallels to the world today. In any case, her bravery as a writer paid off. Two Hugo Awards, almost 2000 reviews on Goodreads, and an overall rating of 4.36 stars.
She also violated every taboo against mixing fantasy, science fiction, and magic in one story. I find that exhilarating. If you love any of those genres, you will love The Broken Earth trilogy. I can't wait to read the final volume, The Stone Sky. Then I will have to decide whether I should read all three books again or read her earlier books.