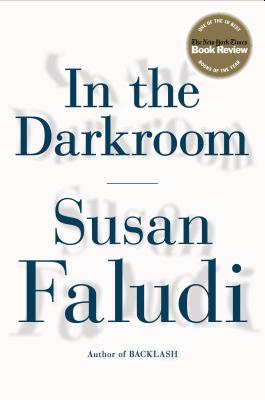 In the Darkroom, Susan Faludi, Henry Holt and Company, 2016, 417 pp
Susan Faludi has been has an award winning journalist, has written an acclaimed nonfiction work, Backlash, and is an all around intelligent woman. I knew the name but not much else. Thanks to my reading group, The Bookie Babes, I have now read her.
In the Darkroom is part memoir, part inquiry into the meaning of identity, part Hungarian history. Some of the reading group members found it overstuffed and I can't disagree. I also however found it moving as a memoir, thoughtful as to gender identity, and informative on Hungarian history.
Susan Faludi had an unhappy childhood, thanks to her father. He was moody, overbearing, and violent at times. He left her and her mother when Susan was a teen, leaving her with harbored resentment, grievances and hurt for many years. When she learned that he had undergone sex reassignment surgery at the age of 76, she began an investigation into his life. Though her father had been a successful photographer for the fashion and magazine industry in New York, he had returned to Budapest, Hungary, the city of his birth. Though the parent and daughter had maintained a relationship and correspondence, it was strained to say the least.
Many visits to Hungary ensued. Susan took a dual role as daughter and investigative reporter and gradually brought the hidden life of her now female father into view, much the way he had developed pictures in his darkroom. During those visits, it was most unsettling to read sentences like, "My father, she..." Also interesting to learn that Hungarian has no gender specific pronouns!
Though the story contains many emotions, the underlying theme is tragedy due to the horrific circumstances of the senior Faludi's childhood in Hungary under the Nazis and then under Communism. Even to this day the country is a political mess and antisemitism is rife. Susan's father was born Jewish but learned to survive by subterfuge and the ability to assume different identities.
The book is necessarily in part a study of the transgender phenomenon primarily through the views of psychiatry and medicine. I found that the least convincing aspect of the story. Her research seemed well done but came across as dry theories, not all of them credible to me. When she finally wove the whole tapestry together, the issues of identity, gender, war, loss and survival as played out in the life of one Jewish man who chose to become a woman, it developed into a deeply moving and personal story.
Take a chance on a book, as we say in the Bookie Babes.