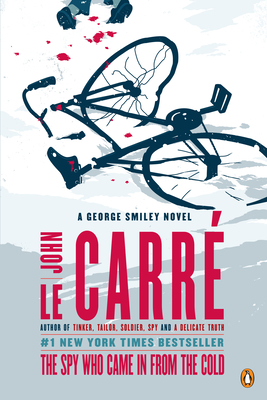 The Spy Who Came in From the Cold, John le Carre, Coward-McCann Inc, 1963, 256 pp
The #1 bestseller in 1964 was this now famous spy story. With just his third novel, John le Carre hit the bestseller list right at the top. I have read eight of his novels, all out of order, but I read this one first back in 1993. By then I was familiar with Ken Follett's spy thrillers, however le Carre was clearly on a whole other level. Now that I am reading them in order I finally get the whole George Smiley thing.
The spy in this one is Alec Leamus, head of the Berlin Station. The Berlin Wall has just been erected and Leamus has lost his last agent while trying to get him out of East Berlin. His career as a spy has tanked and a desk job is not his cup of tea.
He agrees to a last assignment, pretending to go over to the Communists as a double agent. But George Smiley has sent him as bait to trap an actual double agent, Mundt, who is at that time the deputy director of the East German Intelligence Service.
If Leamus pulls it off, he can "come in from the cold" with a cushy pension. As usual in a le Carre story, no one is exactly who he or she seems to be. There is no happy ending. In fact, it is the deep sadness and despair that I love in these books. Not because sadness and despair are good things but because the author does it so well.