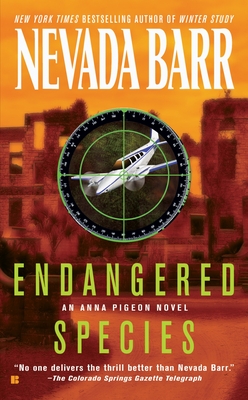 Endangered Species, Nevada Barr, G P Putnam's Sons, 1997, 306 pp
This is Nevada Barr's fifth mystery set in United States National Parks and it is her best one yet. I am reading these books in order of publication as a tribute to our endangered parks.
Park ranger Anna Pigeon has been sent for a 21 day assignment on fire detail to Cumberland Island Seashore off the coast of Georgia. She is bored, the bugs are biting and she is counting the days. The most excitement so far is the arrival of the endangered loggerhead turtles, come to lay their eggs in the sand.
Until a plane crashes in the palmetto stands near the wilderness section of the island. Though Anna and the crew quickly extinguish the resulting fire, both the pilot and his passenger are dead. All the usual experts arrive to investigate but naturally Anna gets involved. Within a day or two she has uncovered enough suspicious details to make a long list of suspects in what amounts to murder accomplished by tampering with the plane.
The wife of the passenger who is within a week of delivering her first baby, the biologist protecting the turtles who appears to be addicted to cocaine, the pilot with a history of wild antics, are only three of quite a few more.
As Anna doggedly works to sort out the clues while sticking with her new sobriety, her boyfriend Stanton, the FBI guy from the last two books, is helping Anna's sister Molly in New York. Molly has received a couple death threats. She and Stanton are also checking each other out with regards to Anna's intentions towards the agent. Stanton finds himself highly attracted to Molly.
Anna does solve the mystery for which she gets little credit though at least she emerges from her escapades alive. I have a feeling she will be looking for a new boyfriend in the next book.
I say it is Nevada Barr's best yet in the series because of the intricate plotting, some of her most unique characters, and the steady suspense of the story. The turtles are pretty cool too.