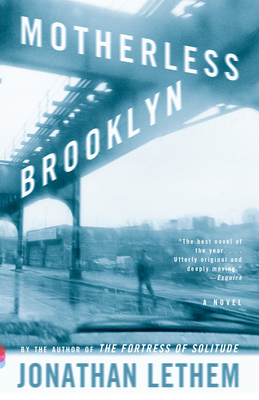 Motherless Brooklyn, Jonathan Lethem, Random House, 1999, 311 pp
I wanted to read this before I saw the movie, which came out a few weeks ago. I have always meant to read Jonathan Lethem and now I wish I had started earlier. Born in 1964, he is a generation behind me but he is of the generation of much fiction I love.
Four orphans in pre-gentrified Brooklyn are picked out by small time gangster Frank Minna to do "errands" for his "limo service" and "detective agency." Soon they become Minna's Men, his comrades in crime.
Lionel Essrog, one of those orphans, feels he is the closest to Minna. His nickname, created by Frank, is Freakshow because he suffers from Tourette's Syndrome. His barking, counting and outbursts of fractured language, make him one of the most endearing orphans in literature. I am a sucker for orphan stories. It all started for me with Anne of Green Gables and The Secret Garden.
When one of Frank's capers goes wrong ending in his murder, Lionel's obsessive nature drags him into real detective work. He MUST find who murdered the only father figure he has known.
The scene of the evening Minna is killed became seared into my mind. According to my husband, who has already seen the movie and is now reading the book, it is reproduced exactly at the beginning of the film.
So yes, this is a riff on the classic detective novel, but actually it is a coming of age tale as great as David Copperfield, a tale of a city as gritty as John Fante's Ask the Dust, as intricately plotted as anything by Raymond Chandler, all combined to blow your mind.
Lethem does it with a scintillating display of language that goes beyond words. He can write six really intelligent things in one paragraph without ever losing his rhythm.
Now to see the movie and better yet to read as much as Lethem as I can over the coming months.