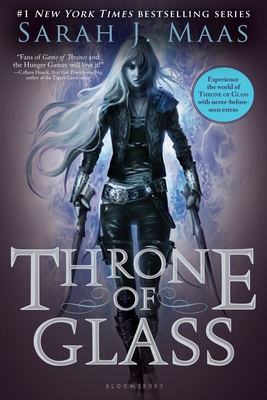 Throne of Glass, Sarah J Maas, Bloomsbury, 2012, 404 pp
Recently I have connected with a few bloggers who are quite a bit younger than I am. It has been fortuitous because I like to read Young Adult books but I need guidance. Both Carrie at
The Butterfly Reader
and Esther at
Bite Into Books
steered me to Sarah J Maas.
Throne of Glass is the first book in Maas's 7 book YA fantasy tale and I loved it. It hits many of my requirements for fantasy: a tough heroine (in this case, an assassin--move over Gabriel Allon!), a vicious King who has suppressed any sort of magic, affairs of the heart for our heroine Celaena, and a dark mystery. Epic!
Celaena is a fascinating character with her supreme ability to kill, her audacity when it comes to any kind of betrayal, and her literate, secretly kind heart. She reminded me of Killishandra from my favorite Anne McCaffrey series, the Crystal Singer trilogy.
While I have no business adding another series to my reading life, I got attached to Celaena and since there are another six books to go, I can be all in suspense for her but don't have to worry about her dying, at least for a while. I am dying to find out!