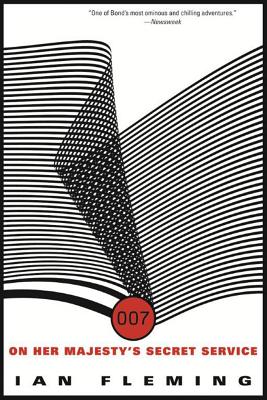 On Her Majesty's Secret Service, Ian Fleming, New American Library, 1963, 288 pp
I don't know what came over me but I decided to read all of Ian Fleming's James Bond books as well as see, or see again, all of the movies. The part of my autobiography I am currently working on involves the Cold War years and its effect on my life as a young adult, so I thought reading these books and watching the movies would give me the flavor of that from a spy's perspective. Though there were more literary authors writing spy fiction during the Cold War (John le Carre, Graham Greene, etc), I think it was the glamorous James Bond who captured our imagination in the United States and the movies just inflamed us more.
I made a list of the books. They span 13 years with as many books. The releases of the movies were in a completely different order. For example, Fleming's first book, Casino Royale, was published in 1953 but the movie came out in 1967. The first movie was Dr No in 1962 though that book was published in 1958.
I started with On Her Majesty's Secret Service because it was published in 1963 and that is the year I am reading right now. I don't know yet how I will coordinate the reading and movie watching.
In any case, it was an entertaining read and I knocked it off in one day. There is a beautiful, sexy girl (of course), Bond's old enemy Blofeld from earlier books, the head of the French mafia (the girl's father), a Swiss hideout, lots of skiing, and even genealogy is involved. Bond seems to have found the love of his life but a spy is never in control of his heart's desire.
The skill of Ian Fleming lies in this: you know Bond won't die and you know it won't work out with the girl but he makes you worry desperately for Bond's life and believe that the romance will have a happy ending. Every other spy fiction writer creates his own variation of this, but after reading just one book, I don't think any of them does it better than Ian Fleming.