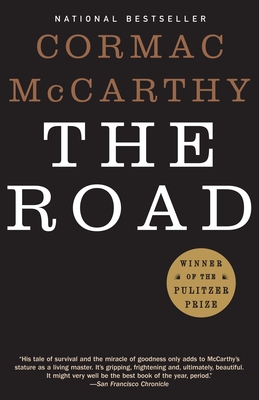 The Road, Cormac McCarthy, Alfred A Knopf, 2006, 241 pp
I read this as part of my self-created 2018 Challenge to read a book a month from the last 12 years of my TBR lists. ( I organize these lists by year of publication.) The Road won the Pulitzer Prize in 2007. I have seen the movie and I have owned the book for many years but somehow never picked it up to read. It is fitting that I did so now since my reading this year is turning out to be littered with post apocalyptic fiction.
From the movie I have indelible images of the devastated land through which a man and his son travel, the ash, the gray skies, the almost utter lack of living creatures except for a few desperate human beings. The cold, the hunger, and the fear.
From the book I got even more of a sense of this father who has nothing and no one left in his life except his son. The boy is quite young, though his age is never specifically given. I pictured him to be about 7 or 8 years old. It is as if the father must protect his son and try to get him to some semblance of safety as a last gasp of human agency.
This bleak disturbing tale takes the road trip novel to new depths. We are accustomed to road trips that take place in cars. The father and his son walk hundreds of miles south in a footrace against winter. The story moves at a walking pace, sometimes a very slow walk, as they push their grocery cart of belongings through mud and slush, but it is a trip taken mostly on the remains of the roads we take for granted in our current lives.
Am I glad I read it? Overall the answer is yes. For the power of McCarthy's writing. For the reminder of what human beings will do for someone they love. Mostly for the realization that came over me days after I finished it.
We don't know what lies ahead. Will mankind figure out ways to counter the forces of climate change, terrorism and the mushroom cloud that still hovers over our consciousness? Most of us will not live long enough to know.
My realization was that whatever our place is in creation, it was not meant to be as an annihilating, destructive force. Mankind as a species throughout recorded history has committed deeds of small and large scale annihilation and destruction but so has nature. If you believe your holy books, your mythology books, so have the gods. The main thread though, as depicted in much of the fiction I read, is the life force, the will to survive, and love, all of which are in abundance even when forced near to extinction from time to time.