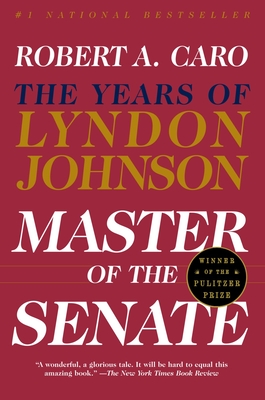 Master of the Senate, The Years of Lyndon Johnson #3, Robert A Caro, Alfred Knopf, 2002, 1040 pp
This volume of Robert A Caro's biography of Lyndon B Johnson was the longest so far. I began reading it in mid-November, 2017, mostly at the rate of 10 pages a day. I renewed it at the library as many times as allowed and finished it in a blaze of power reading 120 pages in two days. It is dense and sometimes repetitive. I feel like I have done a semester of Ivy League college level political science with Robert Caro as the professor. I am not however going to write a term paper!
Yet it was so worth reading. I am a wiser person for it. The whole experience of the three volumes I have now read has given me an understanding of a subject I never thought I even wanted to learn: American politics. Caro grabbed my lazy fiction reading mind by the lobes and dragged me kicking and screaming into an awareness of how democracy plays out in the United States federal government. I have always thought it was a dirty game and I still do, but when my country supposedly elected Donald Trump as POTUS, I knew I needed more knowledge if I was not going to become an anxiety-ridden old woman. Thank you Mr Caro.
Master of the Senate covers Johnson's 12 years in the Senate. Caro opens the book with a full 100 pages on the history of the Senate, another chunk of knowledge I had never considered. Seriously, our education system would do well to figure out a way to teach kids about all this while making it interesting and comprehensible.
After LBJ literally stole the election to become senator from Texas, he went on to learn hard lessons himself about how that body operated. At first, his old tricks were not working for him in such a hidebound, staid institution. Though Caro does not see the man as particularly ethical or principled, he does portray him as a political genius. That being the kind of genius needed to be a chess champion, with an ability to see the game many moves ahead and to read your opponent. Similar skills are also helpful in certain games of gambling. Finally, a good dose of ruthless determination to win, an understanding of publicity and the press, and very little moral compunction are required.
LBJ had and did all that. In the process he single handedly changed the way the Senate worked, from a lethargic men's club into a wheeling dealing den of influence and trade offs. The man wanted to be President of the United States. Since he was essentially a Southern Democrat, he had a big problem to solve in those days and you can read all about how he solved it in this book.
All along in the earlier volumes and through most of this one, Caro had painted an unflattering picture of his subject but curiously, near the end of Master of the Senate, he seems to be changing his tune. He seeks to explain how this fairly despicable character actually gained a reputation for being a champion of Civil Rights. I was not wholly convinced.
At the end of the book, LBJ is about to enter the 1960 Democratic convention for the second time as a presidential candidate. The fourth volume, The Passage of Power, will tell how he came out of that as Vice President to John F Kennedy, thereby losing nearly all of the power he had built up as Majority Leader of the Senate and then, by a simple twist of fate, became President after the assassination.
I am eager to read all that and to learn how he went on to create the Great Society. Perhaps I too will come to admire the man. But not yet. I have been inside the mastermind of this tragic figure off and on for almost a year. I am taking a break. I will be back!