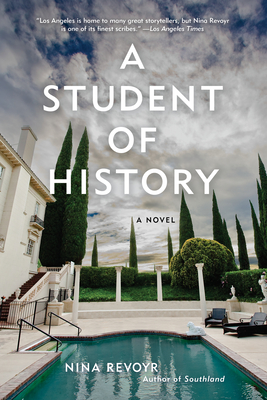 A Student of History, Nina Revoyr, Akashic Books, 2019, 238 pp
Nina Revoyr is a Los Angeles treasure. Born in Japan to a Japanese mother and a White American father, she grew up in Tokyo and Wisconsin, then Los Angeles. Her own experiences inform both her writing and her life's work to serve children affected by violence and poverty. I think her keen eye for injustice is what makes her novels so honestly close to the bone while not ever beating you over the head.
In this, her seventh novel, A Student of History, she takes on the huge disparity between the super rich and the rest of us here in my own town. Rick is a graduate student in history at the University of Southern California. He has lost his way trying to write his thesis and faces two bad outcomes. If he doesn't make progress he will lose his financial assistance from the university and will have no way to afford, well anything. The only skill he has is researching. Also his girlfriend has recently left him.
By a stroke of luck, he is offered a research assistant job with an elderly woman. Mrs W-- is heir to a stupendously large oil fortune and wants her handwritten journals typed up. Working 10 hours a week in her Bel Air mansion, Rick is thrown into a world so far from his racially mixed, blue collar upbringing that it might as well be a foreign country.
Soon enough Mrs W-- also begins to use him as an escort to high society events, even going so far as to buy him a wardrobe so he fits in. His innocence about how these people live and operate leads him to make questionable choices, resulting in a huge breach of trust with Mrs W--.
My husband has done some work for an uber-rich Los Angeles woman, running sound for her lavish series of annual Christmas parties. He had seen this world and come home with stories, but he grew up in an upper middle class environment, so he knows how to handle himself.
Watching Rick fall into the rabbit hole, risking everything, his innocence betrayed by people who have agendas incomprehensible to regular people, was unnerving in the extreme.
You know that feeling one gets that the enormously wealthy of this country don't really have the good of others in mind as they wheel and deal? This is one of those novels that peeks into that world, all the while making these people come to life. They are not on the whole happy, fulfilled individuals. They have secrets and grudges and personal sorrows. Revoyr evokes a certain sympathy for some of them but they are untouchable, by the law, by any conception of the world outside their world. They literally get away with murder and more.
In just 238 pages of uncomplicated prose, Nina Revoyr makes it chillingly real.