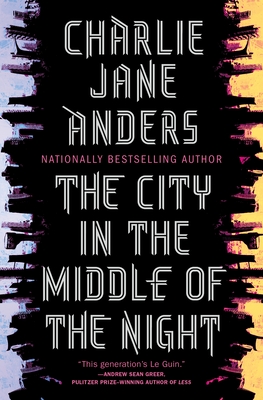 The City in the Middle of the City, Charlie Jane Anders, TOR Books, 2019, 363 pp
I have not made an exact count but I feel like the second largest category of books I read is speculative fiction: science fiction, fantasy, post apocalyptic, and slipstream. I loved Charlie Jane Anders's first novel,
All the Birds in the Sky
, in which she merged magic, science, climate fiction, time travel and a few other things. As I said in my review of that one, "This is a book for geeks of all kinds."
Therefore I was quite excited to read her second novel. The City in the Middle of the City is set on a fictional planet called January, a strange planet because it does not rotate on its axis. This leaves it divided between a permanently frozen darkness on one side and a blazing endless sunshine on the other.
January was settled by space travelers from Earth several generations ago. Their descendants live on a sliver of habitable dusk between the darkness and the sunshine. Having lost all contact with Earth, their technology is deteriorating, the infrastructure crumbling and unstable. There are just two cities with quite different politics and social values but they maintain an uneasy peace because each has things the other city needs.
My only trouble with the book was the world building. For me, it was similar to trying to grok the world created by N K Jemisin in her Broken Earth Trilogy (
The Fifth Season
,
The Obelisk Gate
, and
The Stone Sky
.) When I have trouble creating my own mental pictures while reading I get a little cranky. I found an artist's rendering of one of the cities on Charlie Jane Anders's website and kept it open as I read. I clung to it like a stranger in a strange land.
The plot was good though and kept me reading, so eventually I got involved because of the characters. Lots of characters, but I learned not to get too attached because people die at an alarming rate. I had to admire how the author kept a pervasive sense of danger on every page.
The four major characters are women, whose friendships, alliances and romantic connections changed, shifted, morphed oh so often. If you consider that they were each subject to that continuous danger, that two of them were teens on the brink of adulthood, that the other two were battle-scarred bodacious fighters, you could give them a break. There is also on January an indigenous race of creatures resembling crocodiles but with empathic powers.
I learned in her first book that Charlie Jane Anders is deep into some weird craziness when she writes (she was after all the editor-in-chief of io9, a site devoted to sci fi and fantasy.) The crazy continues here along with her intricate and admirable characters. I finally figured out by the end where she was going with the story but as it was for the characters living on January, I realized I had been on my own the entire time.
If anyone is going to figure out how to keep Earth a habitable planet for humans, it will be a select group of authors, scientists and spiritual types. That group would do well to include Charlie Jane Anders.