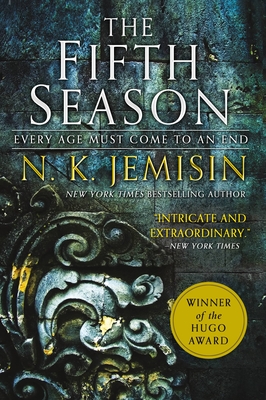 The Fifth Season, N K Jemisin, Orbit, 2015, 465 pp
I have been amusing myself lately by reading fantasy. N K Jemisin is a woman of color with several accomplishments. She won the Hugo Award two years in a row: 2016 for The Fifth Season and 2017 for The Obelisk Gate, the first two of a trilogy. She is the first African American to win this award. Some say she has redefined the genre as was done by greats such as Ursula Le Guin and William Gibson. How could I not check it out?
I loved it! The Broken Earth trilogy gets its name from the major earthquakes and other disasters occurring periodically on Jemisin's created continent called The Stillness. It is Earth in the far future, practically unrecognizable except for some remnants of an earlier advanced civilization.
The disasters have been going on for centuries and whenever one occurs it changes the civilization as the survivors live on and then rebuild. Such a period is called a Season. The story opens with a fresh disaster: earthquake, fire and massive destruction.
Essun comes home from work one day to find her son killed and her daughter kidnapped by her husband and her own life in danger. Essun is secretly an orogene, a person with a magical gift to draw power from the earth itself.
Orogenes are one of the greatest magical creatures I have come across. They are crucial to saving and protecting humans from these disasters but they are feared and kept in a kind of slavery. In order for Essun to find her daughter she must use her powers but hide them at the same time because long ago she went rogue.
It is a complex story along the lines of the kind of games I have never learned to play. The author provides a glossary and a history of the Seasons in the back of the book. Unless you are adept as a gamer, use them! There is a whole world and system to learn. As the tale progresses, runs backward and forward, as the characters constantly morph into what you least expect, danger and daring and violence build. J K Jemisin makes you want to work harder as a reader than you might have thought you could and then rewards you with a fantastic adventure.
Living through this summer of some the worst fires, hurricanes, and earthquakes ever in my lifetime, along with wars, threats of wars, and untold numbers of displaced people roaming the world, this amazing book both put all that into perspective and had the effect of making me feel less terrified and more able to face the facts of the state we are in.
Then the book ended and I went right to the library to get the next volume, The Obelisk Gate. Thank goodness the third volume, The Stone Sky, was published in August, because I can't stop!