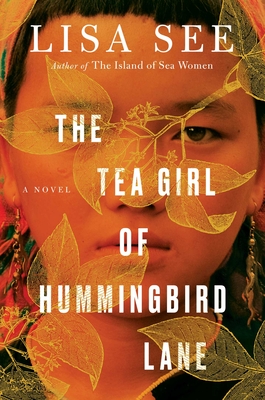 The Tea Girl of Hummingbird Lane, Lisa See, Scribner, 2017, 364 pp
Summary from Goodreads: Li-yan and her family align their lives around the seasons and the farming of tea. There is ritual and routine, and it has been ever thus for generations. Then one day a jeep appears at the village gate—the first automobile any of them have seen—and a stranger arrives.

In this remote Yunnan village, the stranger finds the rare tea he has been seeking and a reticent Akha people. In her biggest seller, Snow Flower and the Secret Fan, See introduced the Yao people to her readers. Here she shares the customs of another Chinese ethnic minority, the Akha, whose world will soon change. Li-yan, one of the few educated girls on her mountain, translates for the stranger and is among the first to reject the rules that have shaped her existence. When she has a baby outside of wedlock, rather than stand by tradition, she wraps her daughter in a blanket, with a tea cake hidden in her swaddling, and abandons her in the nearest city.

After mother and daughter have gone their separate ways, Li-yan slowly emerges from the security and insularity of her village to encounter modern life while Haley grows up a privileged and well-loved California girl. Despite Haley's happy home life, she wonders about her origins; and Li-yan longs for her lost daughter. They both search for and find answers in the tea that has shaped their family's destiny for generations.
I have read and loved and/or enjoyed all of Lisa See's books. This, her latest, is the best one yet.
Combining Chinese history and modern days in both China and California, she teaches us about tea culture, examines the impact of change in a remote village, and true to her enduring theme of mothers and daughters, excites and tears at our hearts.
A young girl who breaks with custom and has to give up a baby is a story often lived and often covered in fiction. She makes it new and unique. The economic crash of 2008 is another much written about event but who knew that a Chinese millionaire who made his riches out of cardboard would be affected? Well, he was because shipping is done in boxes. Something I never considered.
This novel is rich with knowledge about another culture, with the ways a mother's love and the longings of two daughters can outlast time and distance, as well as with stories that twist and turn and intertwine. Of course it may be improbable that lucky coincidences can lead to such a happy ending. That was fine with me because the storytelling is so assured.
Ever since I learned to read, I have loved tales of girls and women who got themselves free of traps due to pluck and luck. In a world filled with disasters, sorrow, loss and dashed dreams, we always need such tales. Lisa See has her own pluck and luck in good measure and thankfully does the hard work necessary to bring the tales to us.