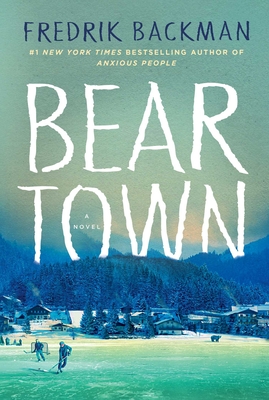 Beartown, Fredrick Backman, Atria Books, 2017, 415 pp (translated from the Swedish by Neil Smith)
Summary from Goodreads: People say Beartown is finished. A tiny community nestled deep in the forest, it is slowly losing ground to the ever encroaching trees. But down by the lake stands an old ice rink, built generations ago by the working men who founded this town. And in that ice rink is the reason people in Beartown believe tomorrow will be better than today. Their junior ice hockey team is about to compete in the national semi-finals, and they actually have a shot at winning. All the hopes and dreams of this place now rest on the shoulders of a handful of teenage boys.

Being responsible for the hopes of an entire town is a heavy burden, and the semi-final match is the catalyst for a violent act that will leave a young girl traumatized and a town in turmoil. Accusations are made and, like ripples on a pond, they travel through all of Beartown, leaving no resident unaffected.

Beartown explores the hopes that bring a small community together, the secrets that tear it apart, and the courage it takes for an individual to go against the grain. In this story of a small forest town, Fredrik Backman has found the entire world.
My Review:
Well. One of the ways I sometimes feel like I might be truly crazy but just don't know it, is when so many readers love a book, give it 5 stars and rave reviews, and I find it awful, deplorable, even possibly dangerous. I purely hated this book. I'll admit the story has a can't-look-away quality to it, so because I read it for my favorite reading group and because it was recommended to the group by a good friend, I got through it.
I will just say that over and above the facts that the characters are cliches and the author continuously tells the reader what she should think about every incident, the bottom line is this: a 14-year-old girl is raped by a 16-year-old hockey star and he totally gets away with it. The author curiously did not tell the reader what to think about that.
Mansplaining, predatory males, male sports heroes who get away with despicable actions; I know what I think about all that. In light of the recent disclosures about Harvey Weinstein, I cannot and will not recommend this book to anyone. Perhaps I read it wrong, but I don't think so.