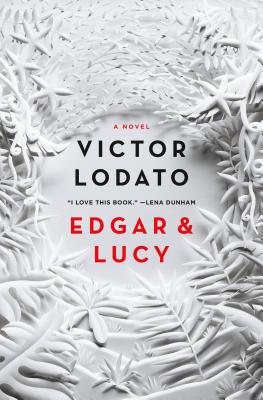 Edgar & Lucy, Victor Lodato, St Martin's Press, 2017, 526 pp
I had never heard of this author or his book until a reading group selected it. I am so glad they did! I loved every page.
Victor Lodato is a playwright, poet and novelist, an occasional short story and essay writer. He has won awards and gotten a ton of writing fellowships. A hardworking writer, he was born and raised in New Jersey, the state where I grew up. This is his second novel.
I loved the characters, even the "unlikable" ones of which there are many. I loved the oddness of the story which borders on the improbable but feels completely plausible while you are reading it. I loved the steady tension of the tale, though some of the reading group members felt he dragged it out too long. Personally, I feel any novelist who can keep me turning the pages in a state of high anxiety for that long deserves high praise.
Edgar Allan Fini is an eight-year-old albino, being mostly raised by his grandmother in a small New Jersey town. Lucy is his unstable, unwilling mother. Edgar's father suffered from some kind of bipolar type mental illness and died when Edgar was an infant. Lucy's father was an abusive alcoholic, so she became a tough, wild young woman, which is why she stayed on with her in-laws after her husband's death and turned the job of raising Edgar over to her mother-in-law.
We learn most of this from Edgar's young, unreliable viewpoint. He is an Owen Meany sort of precocious kid with a touch of something akin to Asperger Syndrome. I swear this novel has elements of many other novels but is not quite like any of them.
Loss, secrets, abuse, mental illness, alcohol, predatory males, overbearing and overprotective old world grandmothering all paint a picture of blue collar life in New Jersey. Bruce Springsteen should compose the soundtrack if ever there is a movie.
When Edgar is abducted by another unstable, grief-stricken man (though thankfully never sexually abused) both Edgar and Lucy deal with it in their own ways. Will Edgar ever make it back home from the Pine Barrens of New Jersey? Will Lucy ever grow up enough to deal with her past and her present, not to mention her future? That is what creates the tension.
Perhaps Victor Lodato attempted to put too much into what is ostensibly a psychological thriller but I don't think so. I think he pulled it off. His writing is achingly beautiful and his dialogue is pitch perfect, as one would expect from a poet and playwright. His insight into people's hearts and minds rivals Shakespeare, if you ask me.
In summary, the novel is not for the faint of heart or the squeamish. If you know me as a reader, you understand that it has just about everything I look for in a good read. I loved Edgar Allan Fini!