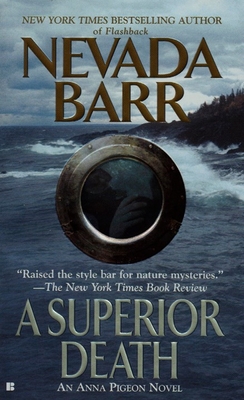 A Superior Death, Nevada Barr, G P Putnam's Sons, 1994, 303 pp
As noted in my
Books Read in September
post, I turned to mysteries as a way to ease my overworked brain. A good thing about mysteries is the bad guy or gal gets caught and also gets what is coming to him or her, unlike our current morally ambiguous society.
After reading
A Mind to Murder
by P D James, I picked up Nevada Barr's second novel,
A Superior Death
. Early this year when our current President seemed to be overriding the sanctity of the U S National Parks, I vowed to read one a month of Nevada Barr's mysteries, each set in a different National Park. As with other vows I have taken in my life, I have been faithless. In nine months I have only read one.
Anna Pigeon is a park ranger who also fights crime. In
A Superior Death
she has been transferred from the dry heat of the Texas high desert (
Track of the Cat
) to the chilly dampness of Lake Superior at Isle Royale National Park. She is moping a bit and shivering a lot, getting chomped on by mosquitoes and meeting a wide range of eccentric characters, when a grotesque underwater murder surfaces.
A current resident of Isle Royale is found dead in the wreck of an old cargo ship. The few clues available do not add up. The man had seemingly no enemies and was a partner in a concession that provided boat tours to summer visitors at the park. The discovery of his body 260 feet below the chilly surface of the lake coincided with the disappearance of another park ranger's wife, a woman with whom he was rumored to be romantically entangled. Had he made an enemy after all?
As I learned in Track of the Cat, Anna Pigeon is a fearless and determined woman. In this book she is required to learn how to dive deep in the freezing waters. An annoying FBI agent sent in to assist in the investigation is convinced that the crime stems from drug smuggling. A kooky couple, new-age types, believes that the missing wife was eaten, cannibal style, by her husband. If that were not enough, a teenage girl seems to be the victim of an adult sexual predator.
Barr juggles a large list of characters (I wish I had made a list) and is forever moving Pigeon around the island into various coves as well as back and forth between different settlements. I found a great map online allowing me to track her movements. I also learned from my husband, who grew up in Michigan, that he had gone to Boy Scout camp on the island. He is reading the book now.
As the deep dives take their toll, as the chilly fogs move in and out, a bewildering list of possible suspects grows and danger mounts. This was an exciting read full of extreme adventure but also occasional humor. I have renewed my vow!