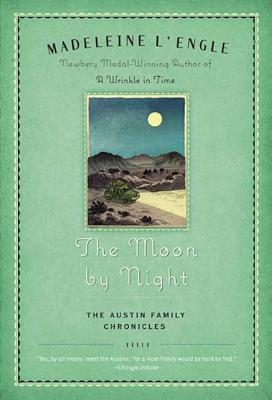 The Moon By Night, The Austin Family Chronicles Book 2, Madeleine L'Engle, Farrar Straus Giroux, 1963, 270 pp
I love Madeleine L'Engle's books. Aside from A Wrinkle In Time, she has written many other novels, some for adults and some for young adults. The Austin Family Chronicles would be shelved as Young Adult I suppose.
I am not generally a reader of what I call "comfort fiction" but there are a handful of authors who write in a way that comforts me and L'Engle is one of them.
The Austin family was first introduced in
Meet The Austins
. They are portrayed as a variation on the ideal American family who live in a rural Connecticut town. The time is contemporary for the year the book was published (1960) and they are a tight knit bunch with wise and loving parents.
In The Moon By Night, Vicky Austin is again the narrator. She is now 14, the second of four kids in the family. At this time she is going through the pangs of adolescence, those first stirrings of private thoughts and longings, mostly about boys. She tries to guard this closely in her mind and heart while suffering the inability to fully share with her parents and her adored older brother.
Oh, I remember those feelings from when I was 14! Because this volume was published in 1963 when I was 15 going on 16, I felt a special affinity for Vicky. That year was possibly the last year of white middle class American life before the country exploded into a chaos of change.
The Austin family is about to explode into change as well. Dr Austin has accepted a job in New York City so they will move in the fall from their idyllic home to life in the city. Vicky will be forced to leave her friends and the only lifestyle she has ever known and go to a new school, make new friends and experience urban life for the first time.
The parents have decided the whole family will take an extended vacation for the summer, a camping trip across the United States to California and back. The kids are rather appalled at this idea, each for different reasons, but the parents rule. So off they go with their station wagon, tents, and portable stove.
Thus the backdrop for Vicky's first summer as a teen is a road trip and the reader gets to experience National and State Parks with all the various climates, topography, and varieties of people to be found in our vast country. Vicky meets two boys over the course of their travels and must decide on her own, but with intrusive barrages of advice from her parents and siblings, how to understand and love these two very different examples of male creatures who are not family members.
L'Engle manages to sidestep excessive sentimentality, to show examples of good parenting and conjure the feelings of adolescent sexual awakening. Yes, it is rather tame and the escapes from danger a bit unbelievable at times, but I was never bored.
I think the author was creating in this series the traditional family she wished she'd had. Since I had something close to that when I was growing up, as well as road trips every summer, I felt right at home. I shared Vicky's exasperation; that feeling that your parents will never understand who your really are along with the hope that they will.