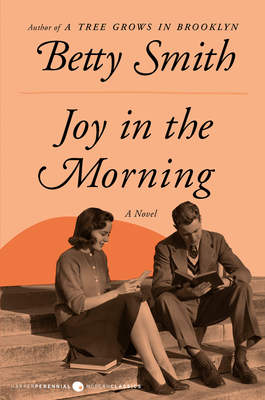 Joy in the Morning, Betty Smith, Harper & Row, 1963, 294 pp
Sometimes even a reader such as myself needs a heartwarming book. The good thing about Betty Smith is that her version of heartwarming is always peppered with enough realism about the way life goes that she, narrowly, avoids sentimentality.
I have read her most famous novel, A Tree Grows in Brooklyn, several times. I will probably read it again someday. Joy in the Morning was her last novel. After reading it I learned that she devoted much of her writing life to plays. In fact Annie, the heroine of this novel, is a budding playwright and overcomes anything in her way to become one.
It is 1927 when Annie leaves her Brooklyn home at the age of eighteen, against her mother's advice, to marry Carl. They had met in Brooklyn but Carl went off to a mid-western university to study law. Soon Annie followed. Carl's mother also opposed the marriage.
The early years of any marriage always involve adjustments, especially in the days when couples did not live together beforehand and had rarely had sex. Often a young couple is not financially secure. All of this is the case for Annie and Carl and this story is full of hardship. Then comes the Depression and the first pregnancy.
If there is one thing Betty Smith knows about life it is how women in those days provided the stability that makes a family, both emotionally and in the day to day practical matters. Annie is as dreamy as any young woman but she also has grit, a huge heart and a good sense of humor.
So she uses her imagination to outwit adversity and her stubbornness to keep writing those plays. Add to that her wisdom in how to keep Carl somewhat settled down when he (as we say in our house) "gets like he gets," and you can't deny she is a wonder.
I must say that all of Annie's lovely and admirable qualities do strain a reader's credulity but somehow I never care when reading Betty Smith. She just gives me hope and makes me feel happy. We all need that sometimes, right?