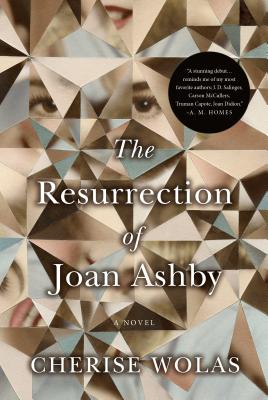 The Resurrection of Joan Ashby, Cherise Wolas, Flatiron Books, 2017, 531 pp
I tore through this long novel in two and a half days. Another novel that had so much relevance to my life, I wondered if Cherise Wolas knew me.
Joan Ashby, our heroine, was already a successful and much loved writer in the eyes of both critics and readers. Her two short story collections were best sellers and she had traveled the world doing readings. She had money. She had planned to remain single, childless, and to continue writing and publishing for the rest of her life.
Just as she began writing her first novel, she met and fell in love with Martin Manning, an up and coming surgeon. She told him, "There are two things you should know about me. Number one: My writing will always come first. Number two: Children are not on the table. I possess no need, primal or otherwise, for motherhood."
Reader, she married him. She got pregnant. She had the baby. A couple years later she had another. Within a short time her writing came last. It would be 28 years before she published again. And this novel is that story.
The writing is excellent and pulled me along like any of the novels I have loved. The construction of the story is daring, including excerpts of Joan's short stories and flashbacks to her life before marriage and children. The characters are wonderfully fleshed out.
Finally, after writing secretly for all those years, after performing motherhood and wifehood to the best of her ability, after Martin has betrayed her in so many ways, after her sons have demanded more of her than she could have imagined, she breaks away and engineers her own resurrection.
This novel has been compared to Fates and Furies by Lauren Groff. Not everyone loved that novel but I did, unconditionally. The Resurrection of Joan Ashby is no less wrenching a portrayal of the harm done to women, but somehow it feels milder. I loved Groff's literary prose. In fact, I was amazed by it. Cherise Wolas writes with assurance in this first novel but the book felt more commercial to me, more consciously designed to be a page turner and to avoid offending readers. When Joan escapes to India and begins to learn meditation and make new nourishing female friends, the book takes a turn into Eat Pray Love territory. I loved that book also though not everyone did, but it was way more twee than Fates and Furies. The Resurrection of Joan Ashby falls somewhere in between.
My conclusion is that women's stories are many and varied, though the theme remains constant. They all need to be told and I for one need to read them. I find that I can compare and contrast these different versions but my judgement is clouded by all the emotion and betrayal most women have experienced. We ask for it in many ways, we are perhaps too trusting, we surely love too much. In any case, Joan Ashby's story is one among the best versions of our tale.