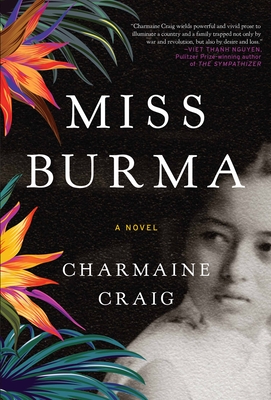 Miss Burma, Charmaine Craig, Grove Press, 2017, 355 pp
This astounding novel was such a worthwhile read. All I knew of Burma, now called Myanmar, was that in recent years it has been ruled by an oppressive military junta, closed off from the world. My clearest impression was of the time in 2004 when the country refused any foreign aid after the Indian Ocean earthquake and tsunami. Just the other day they were in the news as the genocide of minorities continues there.
So what happened in that poor tortured country? Charmaine Craig is the daughter of Louisa Benson, who rose to fame in Burma and the world when she began winning beauty contests and eventually became a contestant for the Miss Universe Beauty Pageant. This novel is the story of the author's mother and her grandparents, but it is also a history of Burma from WWII onward.
I call the book astounding because of the way it entwines the personal lives of her family with the tumultuous political upheavals of their country. It covers colonial abuse and then neglect by the British Empire, bitter enmity between ethnic groups as well as intermarriage between the groups, and the horrific human rights abuses that have gone on. The incredible bravery and resistance of the author's mother and grandmother and their fight for freedom as members of the Karen people, the most despised minority of Burma, makes that political history come alive.
It is a lot to take in. Love between husband and wife, parents and children, siblings, is almost impossible to maintain in such situations. The suffering of these people challenged my imagination. The question is, aside from the right and need for people to tell their stories, do you want to read and know about it if you are one of the more privileged members of the human race. As a reader, that is your choice and you have the right to choose.
At this point in history it often seems that mankind will never change. The powerful will always suppress the weak and nearly always win. The news will either upset or soothe, depending on the outlets we choose to read. Reading historical novels like this, especially when based on real people, inspires me. Sometimes the apparent weak are stronger than it appears and that urge for freedom and justice does have an impact.